Parent ejected while exchanging lineup cards
Parent ejected while exchanging lineup cards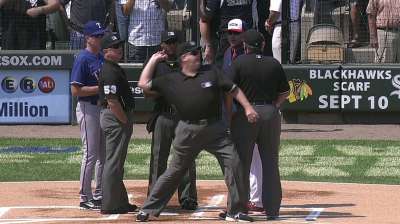 CHICAGO -- The White Sox didn't even need a pitch to be thrown to get the action going in their 5-2 victory over the Rangers at U.S. Cellular Field Sunday.
Bench coach Mark Parent was ejected by crew chief Jerry Layne during the pregame exchange of lineup cards, with video replay showing Parent in a somewhat heated discussion with the crew before Layne made the move. Parent was not in the White Sox clubhouse postgame by the time the media arrived.
"Yeah, it was just something from last night," said White Sox manager Robin Ventura of Parent. "It's over, and [you] play."
That "something" was not specified. But the White Sox had a couple of controversial calls go against them during the first two games of this weekend set.
On Friday, Ian Kinsler raced around the bases for an inside-the-park homer when his line drive down the left-field line got wedged underneath some padding on the wall. Third-base umpire Greg Gibson ruled that left fielder Dayan Viciedo could see the baseball and did not call a ground-rule double.
It was Hunter Wendelstedt who called Alexei Ramirez out at the plate on a Paul Konerko single to left in Saturday's victory. The play was close, but on replay, it looked as if catcher A.J. Pierzynski had blocked Ramirez from scoring.
Layne was the umpire who tried to calm down Chris Sale during the Kinsler argument on Friday, only to incur Sale's brief wrath. Sale said after the loss that he was embarrassed by the way he acted in that situation and praised Layne as an umpire.
Parent's ejection was his second this year and third of his career, but the reason for dismissal was left open for interpretation.
"I think he was asking for his address to send him a Christmas card or something," said a smiling White Sox designated hitter Adam Dunn of what Parent might have said. "But I guess no use in waiting around. You might as well just get it done. It was hot out there."
Scott Merkin is a reporter for MLB.com. Read his blog, Merk's Works, and follow him on Twitter @scottmerkin. This story was not subject to the approval of Major League Baseball or its clubs.