Close games continue to fall on wrong side of ledger
Close games continue to fall on wrong side of ledger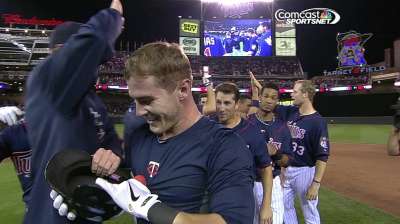 MINNEAPOLIS -- Thursday night's 4-3 walk off Minnesota win marked Chicago's 27th loss by a one-run margin.
The White Sox are 18-27 heading into Friday's game in one-run games and 10-15 in two-run decisions. Ten of their last 14 games were decided by one or two runs -- nine by one run, one by two runs -- and they went 4-6 in that stretch.
White Sox manager Robin Ventura noted that while it's frustrating to think a bit of extra, timely offense could make all the difference in those games, it's hard to look back over the whole season as there are is a different group of guys in the clubhouse.
"They are close and you're in them," Ventura said. "A hit here or there could change those guys. How many of them? You don't know. … We're in a transition. We're a little bit different than we were earlier in the year, so it's something you just continue to make progress and kind of push forward and not look back at that as though these are the same guys performing.
Kelly Erickson is an associate reporter for MLB.com. This story was not subject to the approval of Major League Baseball or its clubs.