Dunn a fan of expanded replay proposal
Dunn a fan of expanded replay proposal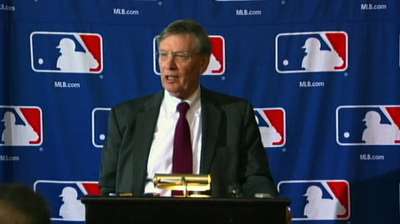 MINNEAPOLIS -- Adam Dunn is all for expanded instant replay.
Major League Baseball announced Thursday afternoon a new proposal concerning the use of instant replay, vastly expanding the amount of plays that can be reviewed and the addition of three managerial challenges.
The White Sox slugger is perfectly ready to embrace the new technology.
"You want everyone to get the calls right, whether good or bad," Dunn said. "Obviously, sometimes it goes against you, but for the most part you want to make sure that you're given the right call. I like it."
Dunn also noted that he's had three hits in the past that were called incorrectly. Expanded replay would prevent that.
White Sox manager Robin Ventura expressed similar feelings about the proposal and hopes the league goes about it the correct way.
"I think the first thing is you just want to try and get it right," Ventura said. "That's always the most important thing. You have the ability and the technology to do it. I think it's just forward thinking."
Ventura also joked that he'll be using all three of his challenges each game.
Kelly Erickson is an associate reporter for MLB.com. This story was not subject to the approval of Major League Baseball or its clubs.