Ventura stands behind Ramirez's fielding
Ventura stands behind Ramirez's fielding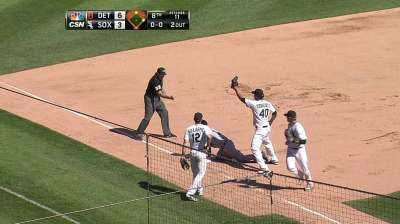 CHICAGO -- Two errors committed by Alexei Ramirez in Tuesday's 11-inning victory over Detroit brought his season total to 19, one shy of his career high set in 2009 and 2010. He initially had three error in the game, but the official scorer overturned his call on one of the plays on Wednesday.
Still, manager Robin Ventura hasn't lost confidence in a player he still views as one of the best shortstops in the American League.
"You can have a season where you're just not as good as other ones, but again he'll come back and make a play that nobody else in the league can make," Ventura said. "You don't know exactly what it is.
"He has a lot of other stuff going on that, it's tough to deal with at times. That's stuff that's off the field. It's hard to have him separate those two at times."
Ventura was alluding to the tragic death of Ramirez's father-in-law during Spring Training, which would affect the toughest of competitors. Ramirez extended his season-high hitting streak to 11 games with a single in his first at-bat on Wednesday and entered the day with 25 stolen bases, not to mention the belief from his manager that the abundance of defensive miscues won't happen again in 2014.
"I don't see this repeating itself," Ventura said.
In Wednesday's 6-4 loss to Detroit, Ramirez, who went 2-for-5 with an RBI and a run, made a heads-up play that eventually got Jose Iglesias out in a rundown.
Scott Merkin is a reporter for MLB.com. Read his blog, Merk's Works, and follow him on Twitter @scottmerkin. This story was not subject to the approval of Major League Baseball or its clubs.