Viciedo to become emergency option at first base
Viciedo to become emergency option at first base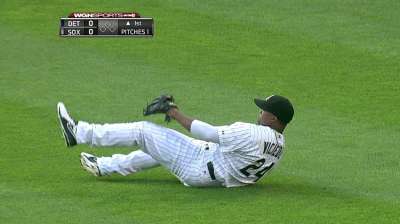 DETROIT -- Dayan Viciedo took grounders at first base prior to Friday's series opener against the Tigers, working with third-base coach Joe McEwing, but it has nothing to do with a potential position change now or in the future per White Sox manager Robin Ventura.
During a game in Cleveland this week, Ventura and his staff were making moves in the course of a game and realized they needed a first baseman but had already used Conor Gillaspie and didn't want to put in an extra catcher. In case that situation arises again, Ventura doesn't want Viciedo to come in cold.
"He'll have at least taken a couple of ground balls," said Ventura of Viciedo.
"At this point, I'm just taking ground balls there in case of an emergency," said Viciedo, through translator and White Sox coach Lino Diaz. "But that's a place I played before and feel comfortable, too."
Viciedo has played left field (205 games), third base (23 games), right field (21 games) and first base (11 games) over the course of his four-year big league career. Despite an occasional throw made to the wrong base, Viciedo has become a very competent left fielder. He's tied for the American League lead in outfield assists at nine.
But the 24-year-old doesn't seem to have a problem changing positions once again.
"The more positions I can play, the better. Especially if I can help the team," Viciedo said. "I don't particularly say, 'Hey, I want to be the left fielder all the time.'
"Last year was the first time I was in the Majors in left field. This year I feel so much more comfortable in that position."
Scott Merkin is a reporter for MLB.com. Read his blog, Merk's Works, and follow him on Twitter @scottmerkin. This story was not subject to the approval of Major League Baseball or its clubs.