Sox starters keep dealing despite low support
Sox starters keep dealing despite low support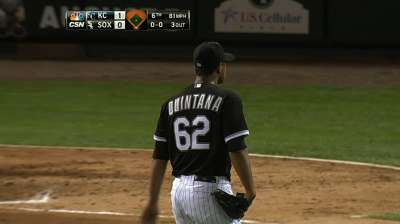 CHICAGO -- Chris Sale gets most of the buzz for a lack of run support, and by now it's clear his win/loss record won't matter much as the White Sox left-hander likely will find his name on many American League Cy Young Award ballots.
But Sale is only one of a handful of White Sox starters whose paltry win/loss record has, perhaps, overshadowed stellar seasons. Among them is lefty Jose Quintana, who held the Royals to two runs in seven innings on Friday while taking the loss.
"I think Quintana's been awesome. I think he's not gotten the runs and support -- he could very well have a great record to go along with the other numbers that are pretty good," White Sox first baseman Paul Konerko said of Quintana, who has a 3.55 ERA and 1.21 WHIP. "It's nice to see a guy like that who had a good year last year, came out of nowhere, and then he built off of that. And great kid on top of it. So I am happy for him."
Chicago starters have done their jobs this season despite missing right-hander Gavin Floyd and having lefty John Danks open the year on the disabled list. The lack of run support, however, has cost the starting rotation and the team.
The White Sox are 17-19 when their starting pitcher works at least seven innings -- a Major League-low .472 winning percentage in such cases -- even though their starters have a 2.29 ERA and .193 average against in those games.
Although the lack of run support can frustrate some pitchers, Sunday starter Hector Santiago said he believes it helps him focus.
"It definitely makes you stronger because you know you've got to try to go out there and put up seven, eight scoreless," Santiago said. "When you get into jams, you get down, dig deeper, try to make better pitches and better quality pitches. … Hopefully they come back and give you some more run support, but if you give up one or two runs, those one or two runs can hurt you."
Cash Kruth is a reporter for MLB.com. Follow him on Twitter at @cashkruth. This story was not subject to the approval of Major League Baseball or its clubs.