White Sox aim to make most of last few months
White Sox aim to make most of last few months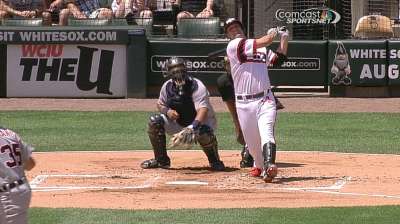 CHICAGO -- Whether you're a 17-year veteran, second-year manager, rookie or fan, it's been a trying year to be connected to the White Sox.
"Yeah, it's been not the greatest," White Sox first baseman Paul Konerko said before Saturday's game against the Royals. "The win/loss record's not anywhere where we want it to be and on a bunch of different levels it's been a struggle. But here we are and sometimes it's not fun. You've just got to grind through as best you can and just keep playing the game."
Manager Robin Ventura also acknowledged that 2013 has been a season of adversity. And while Ventura said he has used some of this season's struggles to talk with players and provide learning experiences, for the most part it's about continuing that grind.
"You just continue to do the job and keep going," Ventura said. "As far as it being easy, hard, whatever, you still have to do what you think is right and find a way to kind of make it fun. But it's harder at certain times than others."
And while this season hasn't exactly gone according to plan for the last-place White Sox, that doesn't mean the White Sox are resigned to accept their fate in the American League Central cellar.
"There hasn't really been anything that you can say, 'That's gone exactly how we thought it would go this year,'" Konerko said. "But that's it. Sometimes you're that team and right now we've been that team all year. That doesn't mean we have to be like that the next two months, but that's the way it's gone 'til now."
Cash Kruth is a reporter for MLB.com. Follow him on Twitter at @cashkruth. This story was not subject to the approval of Major League Baseball or its clubs.