Dunn desires to be part of South Side playoff run
Dunn desires to be part of South Side playoff run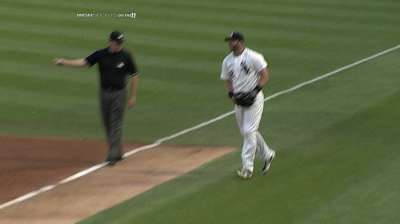 CHICAGO -- Tuesday's contest against the Tigers marked Game No. 1,812 of Adam Dunn's 13-year career without experiencing playoff baseball, making him the leading active player in that dubious category.
So the decision would seem to be an easy one for the powerful first baseman/designated hitter, who is hitting .275 with 12 homers and 33 RBIs over June and July, if the White Sox had the opportunity to move Dunn to a playoff contender. But it's not quite as black and white for the 33-year-old, who picked Chicago as his free-agent destination prior to the 2011 season.
"It's something I try to stay out of. I don't have any control over it, but I want to do that here," said Dunn of reaching the playoffs. "That's why I came here. I know everything hasn't worked out like I wanted it to or anyone has.
"But I want to do it here. I'm not looking at it any differently than I would in any other situation. I want to somehow figure this out and turn it around. If it's not this year, then I'm coming in next year with the same expectations."
The 2014 campaign marks the final season of Dunn's four-year, $56 million deal with the White Sox. It's uncertain as to who will be a part of that particular squad, with right-handed pitchers Jake Peavy, Matt Lindstrom and Jesse Crain and outfielder Alex Rios all drawing serious interest as the July 31 non-waiver Trade Deadline approaches.
Even if the White Sox go into more of a rebuilding mode than reloading, the goal for Dunn remains the same -- to win a championship. It was a disappointment when the White Sox fell short in 2012 after leading the American League Central for 117 days and just as big of a disappointment falling well below expectations this season.
"To me, it's the same feeling," Dunn said. "Again, you can win 120 games and not make it and what's the difference? There's no difference. You had a great 162 games, but that means nothing.
"You are so locked in on that day's game that I don't think about results. But when it comes down to it, that's why you play, that's why you do everything you do to get ready. To not make it, that's, I don't care how good a personal season is or how bad, it doesn't matter. If you don't make the playoffs and give yourself a chance to win a ring, then mission not accomplished."
Scott Merkin is a reporter for MLB.com. Read his blog, Merk's Works, and follow him on Twitter @scottmerkin. This story was not subject to the approval of Major League Baseball or its clubs.