Draft talent should assist Sox in rebuilding process
Draft talent should assist Sox in rebuilding process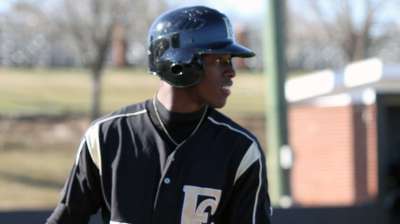 PHILADELPHIA -- For at least a few weeks or months after the June First-Year Player Draft, White Sox director of amateur scouting Doug Laumann and his staff look like very astute baseball individuals.
"You're always optimistic the first month after the Draft," Laumann told MLB.com during a recent interview.
"We'll be pretty stupid again pretty soon," added Laumann with a laugh. "Now we can act like we are smart for a few weeks."
The truth of the matter is that with Tim Anderson (first), Tyler Danish (second) and Jacob May (third), the White Sox picked up three of Laumann's primary targets after months of extensive scouting. These three White Sox newcomers also will be essential to the team's rebuilding or reshaping, much like Trayce Thompson, Courtney Hawkins and Erik Johnson before them, to name just a few.
So far, so solid for some of these '13 Draft class members.
Anderson has a .303 average with eight stolen bases at Class A Kannapolis, while Danish has a 2.00 ERA with nine strikeouts in nine innings. May is struggling with four hits in 37 at-bats for Kannapolis, but already was promoted from Great Falls, where he hit .378 with seven RBIs in 45 at-bats.
Not everything is perfect, with Anderson having made 12 errors at shortstop and outfielder Courtney Hawkins, the team's top pick from 2012, having struck out 102 times in 203 at-bats, despite knocking out 15 homers. But it's all part of the learning process.
After all, Derek Jeter made 56 errors at shortstop during his first full Minor League season.
"As a scouting director and just anybody that is involved with these kids, you want them to get to the big leagues as quick as you can," Laumann said. "You love to see them jump levels and progress like want them to. You have to trust our guys in player development and [assistant general manager] Buddy [Bell], who is very good at reading where guys can handle, not just physically but mentally."
Scott Merkin is a reporter for MLB.com. Read his blog, Merk's Works, and follow him on Twitter @scottmerkin. This story was not subject to the approval of Major League Baseball or its clubs.