Thornton's impact on White Sox went beyond the field
Thornton's impact on White Sox went beyond the field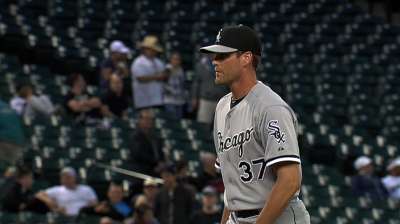 PHILADELPHIA -- Behind stellar bullpen work through parts of eight seasons with the White Sox, Matt Thornton topped the all-time franchise charts in relief appearances and holds.
Thornton also appeared in at least 60 games in every season but the current one, as the southpaw was traded with cash considerations to the Red Sox late Friday night in exchange for outfielder Brandon Jacobs. But his value ran deeper than on-field accomplishments, as his White Sox management and teammates have explained since the deal.
"You look at [Thornton's] time here and I think just the appearances and things he has done as a pitcher, he did man's work here," said White Sox manager Robin Ventura. "He's a pro. [The Red Sox] got a good guy."
"He's a great teammate and a good leader for the younger guys," said White Sox reliever Jesse Crain, who spoke with Thornton, as did Ventura, before his departure. "A professional who went about his business, got his work done, worked hard and is a guy who definitely is going to be missed."
Crain joked about taking over the role as bullpen elder statesman with Thornton gone, before realizing that Matt Lindstrom is actually older. Thornton and Crain provided valuable guidance to rookie relievers such as Addison Reed, Nate Jones and Hector Santiago, beginning last season -- although the focus of their wisdom wasn't really pitching.
"I wouldn't say we talked too much about mechanics stuff, but any time me, Nate or Hector had questions or concerns, I know last year [Thornton] talked to us about staying ready and [pacing] yourself for [a] 162-game season," Reed said. "He was awesome, great, I'm excited for him.
"He has a chance to join a team that's contending, and it means a little more than it did here. So he gets to be in a playoff hunt, and that's what he wanted."
Finding a late-inning emotional balance was another lesson imparted by Thornton to his young teammates.
"If you saw him after a game, you'd never know if he gave up 10 runs or struck out three in a row," Reed said. "That's the best way to go about it. If anything, he showed me not to worry about things. If you're doing well or bad, have the same attitude day in and day out -- because there's nothing you can do about that previous outing."
Scott Merkin is a reporter for MLB.com. Read his blog, Merk's Works, and follow him on Twitter @scottmerkin. This story was not subject to the approval of Major League Baseball or its clubs.