Thornton keeps daily focus amid trade speculation
Thornton keeps daily focus amid trade speculation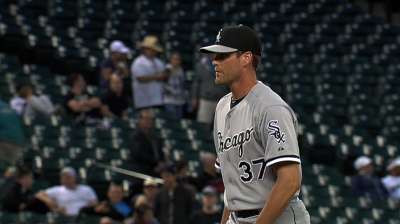 PHILADELPHIA -- After Matt Thornton allowed three runs over one-third of an inning during an 8-2 loss to the Cubs on Monday, the veteran southpaw joked about the future effects of quite possibly the worst outing of a solid season.
"I had the bad outing against the Cubs and I go, 'Well I'm not going anywhere now,'" said Thornton, one of the many White Sox relievers discussed in trade rumors. "It was one quarter of my runs this season and all of a sudden, I'm having a bad year. Really, I just go out there and I'm trying to help us win games."
Thornton bounced back strong in Thursday's 6-3 win over the Tigers, getting Prince Fielder on a groundout, Victor Martinez on a popup and striking out Jhonny Peralta during a perfect eighth. He followed Matt Lindstrom to the mound and preceded closer Addison Reed in what some said was the White Sox showcase finish, with all three relievers drawing trade interest.
But for a man who has been involved in trade rumors for the past five years, Thornton knows trade speculation can't influence his daily preparation.
"If you let outside things worry you at all, you are definitely not focused on things you need to be at the time, and you will probably see the results of that," Thornton said. "And that doesn't mean if you are having a bad outing, you are thinking about that.
"Sometimes you just have bad outings this time of year. It happens. It's right before the break, everyone is a little worn down and trying to fight through the next three days and get your break.
"It's not like they are going to give us away. It's going to take some quality players to get good players," Thornton said. "We have a lot of good players here, if they decided to sell. At the same time, I've never seen the White Sox sell. It will be interesting to see what happens when it comes around that time. I'm just focusing on the task at hand."
Scott Merkin is a reporter for MLB.com. Read his blog, Merk's Works, and follow him on Twitter @scottmerkin. This story was not subject to the approval of Major League Baseball or its clubs.