Hitting coach Baines happy for Big Papi
Hitting coach Baines happy for Big Papi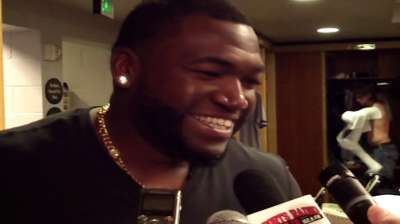 DETROIT -- A second-inning double from David Ortiz Wednesday night in Seattle made the charismatic Boston slugger Major League Baseball's all-time hits leader as a designated hitter at 1,689. He passed White Sox assistant hitting coach Harold Baines, who had 1,688 as a DH.
"He's a great hitter. Very well deserved," Baines said of Ortiz. "He's 37 now and has had a great career. I'm most impressed how he uses the whole field. He's a power hitter but he takes his singles. He knocks in a lot of runs. He's a complete hitter. He's a DH, but he uses the whole field."
Baines served primarily as a DH from the 1987 season moving forward, and he played just one game in the outfield from 1993 to 2001. He believes the designated hitter still holds a very important part in today's game.
"A lot of guys unfortunately get hurt, but their career can be extended by having the DH around," Baines said. "It saved my career. It added 11 more years because of the DH."
Scott Merkin is a reporter for MLB.com. Read his blog, Merk's Works, and follow him on Twitter @scottmerkin. This story was not subject to the approval of Major League Baseball or its clubs.