Flowers increasingly willing to pounce on strikes
Flowers increasingly willing to pounce on strikes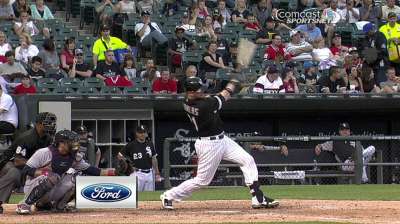 CHICAGO -- Over the past 18 games entering Sunday's series finale against the Indians, White Sox catcher Tyler Flowers had produced a .273 average with four homers and nine RBIs. It's an aggressive step forward for Flowers, who has raised his average to .216.
"It seems to be helping me in multiple aspects: recognizing pitches, laying off certain pitches," Flowers said of his more aggressive approach at the plate. "I'm hitting balls a little bit better and a little bit harder. That kind of stuff.
"Nothing mechanical or anything like that. I'm just kind of trying to get a good pitch to hit and trying to hit it hard."
While Flowers doesn't want to get too wild with his swings in this aggressive adjustment, he also doesn't want to give away hittable pitches early in the count.
"I don't really have the luxury of giving away strikes or giving a guy strike one," Flowers said. "I feel like those are pitches I need to take advantage of and put a little bit more pressure on their guy so they know I'm not going to sit there and take a pitch. Hopefully, that will more often than not get me ahead in the count to get me a better pitch to hit.
"But not just that, as far as my swing, I'm just trying to really drive balls. I'm not really going up there and trying to finesse it to the right side or something, unless the situation dictates. For the most part, I'm trying to be overall more aggressive."
Scott Merkin is a reporter for MLB.com. Read his blog, Merk's Works, and follow him on Twitter @scottmerkin. This story was not subject to the approval of Major League Baseball or its clubs.