White Sox congratulate Blackhawks' championship
White Sox congratulate Blackhawks' championship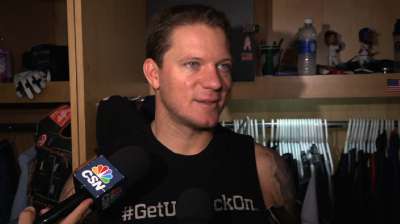 CHICAGO -- The Blackhawks' stunning finish Monday night to capture their second Stanley Cup title in four years earned praise from their friends and admirers with the White Sox.
"I told somebody, 'That's hitting a three-run homer down two with two outs in the ninth,'" said White Sox starter Jake Peavy of the Blackhawks' two goals within 17 seconds late in the third period to pull off a 3-2 victory and 4-2 series win. "That's why you play the game and play the game to the end. You really felt, and I don't know much about hockey, that Boston was in control and really outplayed the Blackhawks for the most part.
"What better way would you want to win it than showing we'll play hard for 60 minutes. As an athlete, you respect the way it happens. And that right there is why you say you never know what's going to happen. They're world champions. I tweeted that out last night, "World Champions." If you're an athlete, is there a better phrase?"
There was no word on Tuesday as to when or if the Stanley Cup would make an appearance at U.S. Cellular Field, as it did in Wrigley in 2010 during a Cubs-White Sox matchup.
"You could hear it on the street when they scored," White Sox manager Robin Ventura said. "It's exciting. It's one of those where you're happy for the fans and you're happy for the team, the coaches, the players, everybody.
"The way they won, coming back late, I think that was probably what made it a little better. You're looking at Game 7 in an instant there. It was fun to watch."
Scott Merkin is a reporter for MLB.com. Read his blog, Merk's Works, and follow him on Twitter @scottmerkin. This story was not subject to the approval of Major League Baseball or its clubs.