Beckham rewards Ventura's faith in ninth
Beckham rewards Ventura's faith in ninth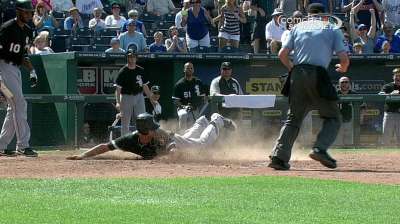 KANSAS CITY -- White Sox manager Robin Ventura decided not to go by the book in the ninth inning on Saturday and his gut instinct to allow pinch-hitter Gordon Beckham to swing away rather than lay down a sacrifice bunt worked out in a 3-2 Chicago victory.
Tied at 2, the White Sox put runners at first and second with none out and Beckham came on to hit for Tyler Flowers. While the conventional play was a sacrifice bunt, Ventura risked a double-play grounder by allowing Beckham to take his cuts. Beckham came through by advancing the lead runner on a fly ball that center fielder Lorenzo Cain tracked down in right-center. Pinch-runner Jordan Danks was decisive in tagging up and moving to third. Danks then scored on a sacrifice fly by Alejandro De Aza.
"Gordon has been swinging it pretty good against righties," Ventura said. "You have three chances to get a hit. In the past, we've done the bunt thing. I don't know if it puts more pressure [on the defense], but you give the guys a chance to swing the bats. With Gordon, you figure he's at least going to get that job done [advancing the lead runner]."
Ventura credited Danks with good baserunning on consecutive tag-up sequences and De Aza for getting the sacrifice fly when he had two strikes against Royals closer Greg Holland..
"We executed when we needed to late in the game," Ventura said. "That's good stuff."
Robert Falkoff is a contributor to MLB.com. This story was not subject to the approval of Major League Baseball or its clubs.