White Sox seeking solution to recent struggles
White Sox seeking solution to recent struggles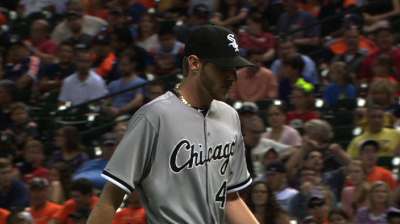 HOUSTON -- With a 4-14 record since moving to the .500 mark via a May 26 home victory over the Marlins, the White Sox can agree on one thing concerning these past 18 games.
There isn't one thing that explains why the South Siders have struggled so much of late.
"We score some runs, and we don't pitch," White Sox starting pitcher Chris Sale said. "We pitch and don't score runs or sometimes it's a combination of both. I don't think it's anything you can sit here and point fingers at any one person or group of people. It's just we are not getting lucky bounces and we are not putting it together."
"It's been tough. It's tough to put your finger on," said Jake Peavy, a rotation mate of Sale, currently on the disabled list with a fractured rib on his left side. "It's the same team that spent almost 120 days in first place last year. It just seems like sometimes you go through stretches where things are contagious. You just come up short."
Fans of the team don't want to hear excuses from White Sox players, coaches, manager Robin Ventura or general manager Rick Hahn over a disappointing effort landing them 10 games under .500 and 9 1/2 games out of first place entering Monday's series finale in Houston. But the fact of the matter is that the White Sox are not getting "boat-raced every night," as Peavy explained, basically meaning they are not getting beat badly and never had a chance.
Fifty-three of the club's 66 games have been decided by three runs or fewer, including a 10-15 record in one-run games. The White Sox have played 11 extra-inning games, which is tied with the Reds for the second-highest total in the Majors.
"That's the most frustrating part. We can taste it. We have it right there every night," Sale said. "That's kind of different when you get beat 10-1 or 11-2 and stuff like that. But you know when you are losing 2-1, 3-2 and 5-3, it stings a little bit more because you feel like you are right there.
"Nine-to-one games, you are coming in and saying, 'We had no chance in that game.' Every game we are coming in here and it was like, 'We had a chance to win that game.' We are good. We believe in ourselves. It's just not showing up, I guess."
Sale stands as one of the Major Leagues' top starters and agreed during Spring Training to a five-year, $32 million extension, with team options for 2018 and '19. Despite the fact that the 24-year-old would be the team's most attractive trade piece, he figures to be the face of the franchise for many years.
As for thinking about this group of players being broken up, Sale won't focus on anything but getting the team back on a winning track.
"You start worrying about external issues like getting traded, it takes away from what we are doing on the field," Sale said. "We need all of our focus on the field right now. Anything can happen. You can be 10 games out and 10 days later, you can be even and 20 days later, you can be 10 games up."
"We do have great leadership and even as bad as it has been, have been showing up and playing hard," Peavy said. "Everybody in this locker room cares and doesn't want to be in this situation. We've got to have a big turnaround in a hurry for us to climb back in this thing and we understand that."
Scott Merkin is a reporter for MLB.com. Read his blog, Merk's Works, and follow him on Twitter @scottmerkin. This story was not subject to the approval of Major League Baseball or its clubs.