Defensive lapses continue to haunt White Sox
Defensive lapses continue to haunt White Sox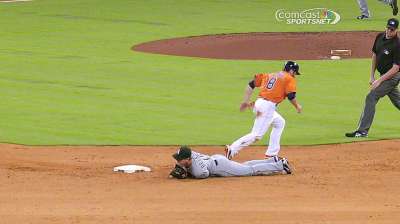 HOUSTON -- For a team as fundamentally sound as any in baseball during the 2012 season, the defensive miscues from the 2013 White Sox continue to be perplexing.
Friday's 2-1 loss marked the ninth game this season during which the White Sox have committed at least two errors, and they are on pace to make 111 for the season. That total would be 41 more than their 70 last season.
Errors are part of the game, but they become more heightened for a team that ranks 13th, 14th or 15th in seven separate offensive categories. As the White Sox fielding percentage dips to .981, and with five errors in their last two games and eight committed in their last six, manager Robin Ventura believes these miscues are not born from a lack of effort.
"Absolutely not. Or concentration and things like that," Ventura said. "There are going to be physical things that just happen in a game. For me, it's not effort. They are working and doing the things you want them to do.
"Everyone is going to make their mistakes. It just seems like the one we're making is the one we were making a play on last year. Which one this is, you kind of chalk it up to it's going to happen every once in a while, so you go from there. It's not an effort issue. It's not a concentration issue."
Alexei Ramirez drew focus in the series opener against the Astros for his two fifth-inning errors that produced two unearned runs for Chris Sale. Those Ramirez mistakes, giving him 10 for the season, left the shortstop sitting in front of his locker postgame, with his head in his hands, staring at the floor. Teammates and coaches were still giving pats on the back and words of encouragement Saturday to Ramirez, who also has shown flashes of brilliance in the field this season.
"He's got a lot of pride and he cares and doesn't want to let anybody down," said White Sox third-base coach Joe McEwing, who works defensively with the infielders. "But you know he goes out and competes hard every single day, and there's nothing more you can do."
When asked if he thought Ramirez remains one of the best defensive shortstops in the American League, McEwing gave the one word answer of "absolutely." It's hard to figure for the entire staff how the Major League's top defense last year, featuring many of the same players with an upgrade at third base in the presence of Conor Gillaspie, has slipped so much.
"When you play for a long time, you are going to make them and you just try to eliminate them and continue to work," McEwing said. "The toughest thing is stay positive. If you continue to be negative, it will continue to snowball. Stay positive and continue to grind."
Scott Merkin is a reporter for MLB.com. Read his blog, Merk's Works, and follow him on Twitter @scottmerkin. This story was not subject to the approval of Major League Baseball or its clubs.