Heavy fog hinders vision in Monday's opener
Heavy fog hinders vision in Monday's opener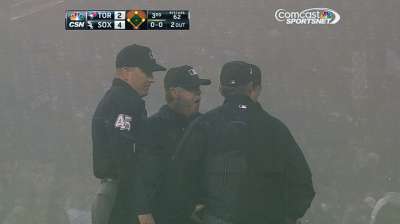 CHICAGO -- According to White Sox starting pitcher Dylan Axelrod, there was one benefit derived from the fog blanketing U.S. Cellular Field during Chicago's 10-6 victory on Monday night.
"I didn't see all those home runs go out," said a smiling Axelrod, who gave up two long balls to the Blue Jays' Jose Bautista and one to Colby Rasmus over four-plus innings. "So that was cool."
After Toronto starting pitcher R.A. Dickey walked Hector Gimenez to load the bases with two outs in the third, home-plate umpire Jeff Nelson called a conference among the umpires beyond the pitcher's mound. They then stopped the game officially at 8:17 p.m. CT, with the delay covering one hour and 10 minutes, although there was never talk of cancellation.
It was so difficult to see that Adam Dunn's homer with one out in the third wasn't really noticed until Rasmus turned around in center and watched the ball fly out. The White Sox media relations staff "guesstimated" the distance of Dunn's blast at 444 feet because nobody really saw where it landed.
White Sox right fielder Alex Rios said the fog got bad again over the last two innings after it cleared up following the delay.
"I couldn't see the ball," Rios said. "I couldn't even see it from the pitcher's hand, so it was tough."
"I've never seen anything like it," White Sox manager Robin Ventura said. "It would clear up, and then all of the sudden you couldn't see an outfielder. They did the best they could as far as trying to make sure you could see and it was safe."
As a native of California, Ventura said Monday's fog was commonplace when he was growing up.
"Here I haven't seen it," Ventura said. "I played a lot of high school games like that. I got a lot of hits that way."
Scott Merkin is a reporter for MLB.com. Read his blog, Merk's Works, and follow him on Twitter @scottmerkin. This story was not subject to the approval of Major League Baseball or its clubs.