Viciedo back in lineup amid funk
Viciedo back in lineup amid funk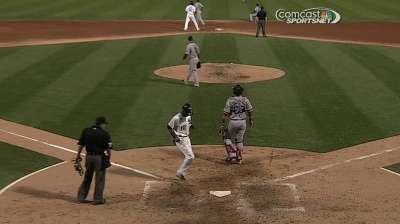 CHICAGO -- Dayan Viciedo has redefined the term "streak hitter."
In his last 12 games entering Monday, the White Sox left fielder has three hits in 42 at-bats. In his 20 previous games, Viciedo was hitting .368 (25-for-68). But manager Robin Ventura had Viciedo back in against lefty knuckleballer R.A. Dickey, hoping a more positive streak was getting ready to start.
"When he's trying to pull it he can find himself in these little ruts swinging and missing," said Ventura. "If he can kind of get back into that mode where he's up the middle, the other way and just uses his hands a little more, he'll be better. He's young and trying to do too much sometimes and falls into that rut for an extended period."
The White Sox tried to increase Viciedo's patience during the offseason and Spring Training by adding a small leg kick to his swing. That physical change, though, can't change the type of aggressive hitter Viciedo always has been.
"It becomes hard for him to understand that he should take five at-bats and no matter the result you're still going to try and force it over there [the opposite way or up the middle] to get yourself back on track," Ventura said. "That's what older guys or in the middle of their career can do that. You can have trust in doing that. If you're younger, it's a little bit more difficult to feel like you have the sure footing to do it."
Scott Merkin is a reporter for MLB.com. Read his blog, Merk's Works, and follow him on Twitter @scottmerkin. This story was not subject to the approval of Major League Baseball or its clubs.