Peavy injured in White Sox eighth straight loss
Feels rib pain on left side, allows six runs on seven hits over 2 1/3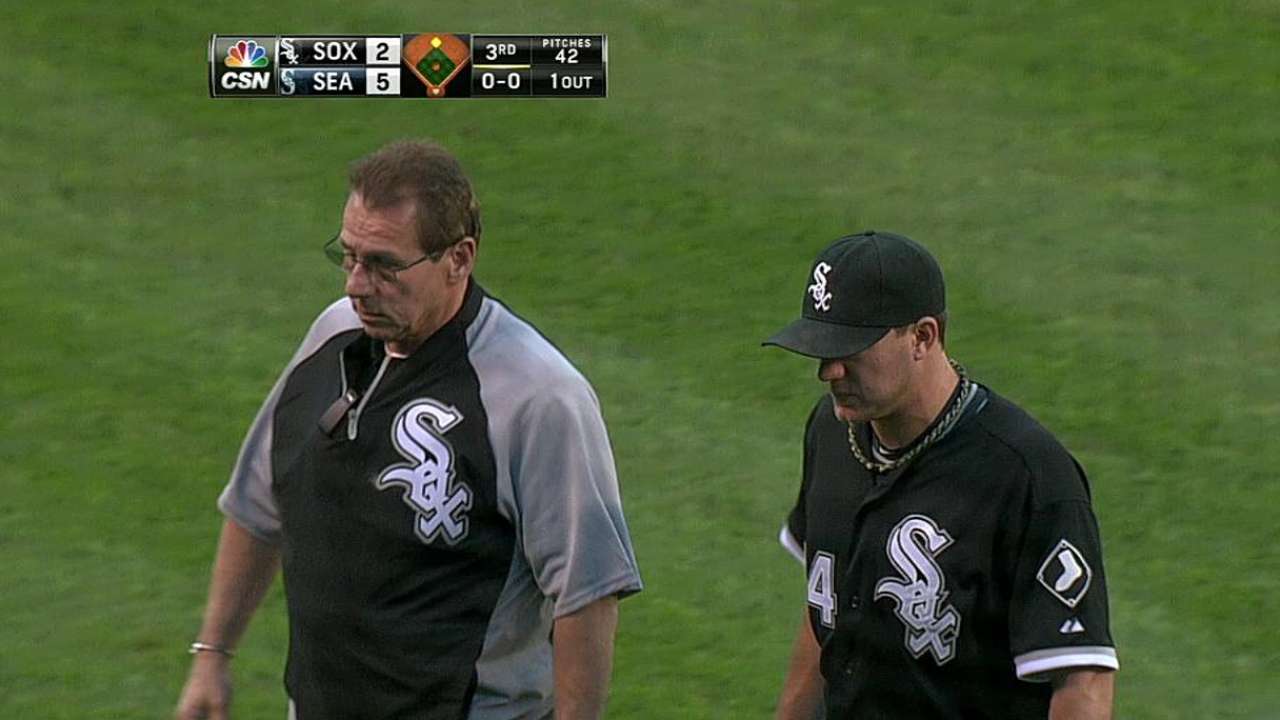 SEATTLE -- Jake Peavy was dejected, bordering on despondent, speaking barely above a whisper as he described the injury that knocked him from Tuesday's 7-4 loss to the Mariners at Safeco Field.
Robin Ventura was agitated, bothered on this night by having to argue three different calls, but just maybe having the weight of the White Sox struggles slightly altering his even-keel temperament.
As for the White Sox (24-32)?
They dropped their eighth straight since reaching .500 on May 26. Their seven-game deficit behind the Tigers in the American League Central represents their largest chasm of the 2013 season, but catching the Tigers becomes a worry in the far distant future at this point.
Their concerns begin and end with Peavy, who departed with what is being called a rib pain in his left side. X-rays were negative for a fracture, and an MRI was scheduled for Wednesday morning in Seattle.
Even without those results in hand, Peavy certainly didn't sound encouraged that he'll be able to make his next start Sunday at home against the A's.
"You never know, I guess," said Peavy, leaning against the locker with a heavy wrap across his chest. "We'll know tomorrow, but I can't imagine throwing the ball here in the next few days feeling the way I feel now."
Peavy (6-4) yielded six runs on seven hits over 2 1/3 innings, ending with a two-run Raul Ibanez double on a 3-1, 90-mph fastball. Ventura made the slow walk to the mound after the pitch, and when the conversation continued for more than a normal manager-pitcher chat, home-plate umpire CB Bucknor joined the discussion. White Sox head athletic trainer Herm Schneider soon came out to the mound, and Peavy left the game.
This injury rose up during the club's final game in Oakland, and something might have been in there even longer, according to Peavy. He saw a doctor Monday and figured he could work his way through Tuesday's start, trying to help the White Sox end their losing ways and match up against Felix Hernandez (7-4).
With his fastball topping out at 90 and regular checking in at 84 or 85 mph, Peavy quickly realized there wasn't much chance to succeed.
"It's something that's pretty acute, pretty sharp. I couldn't physically do much from the start of the game," Peavy said. "I'm hurting to take a deep breath. Just walking I can feel it. Something is going on. If it's the actual rib, which we're pretty positive it is, or something around, we're pretty positive from both of the doctors I saw tonight it's a rib injury."
"Something just didn't look right," Ventura said. "He just wasn't able to get any velocity on it. It's one of those where you don't want him to go out there and continue and hurt something. So, we took him out."
To the Mariners' credit, they jumped on a less-than-100-percent Peavy early with three in the first, courtesy of Kendrys Morales' single and Ibanez's two-run homer on the next pitch.
"I'm not sure what happened to him, but I've been playing against him for years and the guy is a warrior," said Ibanez of Peavy. "He comes at you and is aggressive."
Hernandez looked beatable on this evening, or as beatable as one of the game's best pitchers ever looks. He struck out eight over 7 1/3 innings but gave up four runs on six hits before giving way to Oliver Perez and Tom Wilhelmsen (14th save).
Ventura was happy with the White Sox approach. He wasn't quite as satisfied with having to argue D.J. Reyburn's call on Nick Franklin's drive to right in the third, which was initially ruled a home run but was changed to a double following a replay review. Franklin was actually thrown out at second by Alex Rios as that play unfolded, but Ventura was told nobody was going to be called out after the initial call was made.
"Obviously, I spent too much time on the field tonight," said a terse Ventura, who also argued to no avail batter's interference on Kelly Shoppach during an eighth-inning Michael Saunders' stolen base that led to an insurance run.
Adam Dunn ended the club's seven-game homer drought with a clout to center off Hernandez with one out in the second, marking the team's first long ball since Dunn went deep in the first inning of that May 26 contest against the Marlins' Alex Sanabia. The last time a player other than Dunn homered for the White Sox was in the ninth inning of a May 22 loss to Boston, when Paul Konerko cleared the fences against Andrew Bailey.
One other piece of good news came in 2 1/3 scoreless innings of relief from both Brian Omogrosso and Nate Jones, with Jones fanning a career-high five on just 25 pitches. The White Sox scored in the eighth on Tyler Flowers' double to right-center that ended Hernandez's night, and Alejandro De Aza's single to left-center off of Perez. But Gordon Beckham's double play ended the threat.
Now, the White Sox will try to avoid a 0-8 road trip Wednesday afternoon, while waiting for Peavy's MRI results. Ventura has said numerous times this season that as bad as things seem, they can always get worse.
On Tuesday night, they did.
"To have something like this flare up and not even sure how, it's frustrating and sickening," said Peavy, who was replaced by Hector Santiago for a start on May 2 in Arlington, Texas, because of lower back issues. "It brings tears to my eyes."
Scott Merkin is a reporter for MLB.com. Read his blog, Merk's Works, and follow him on Twitter @scottmerkin This story was not subject to the approval of Major League Baseball or its clubs.