Crain, Reed making themselves marketable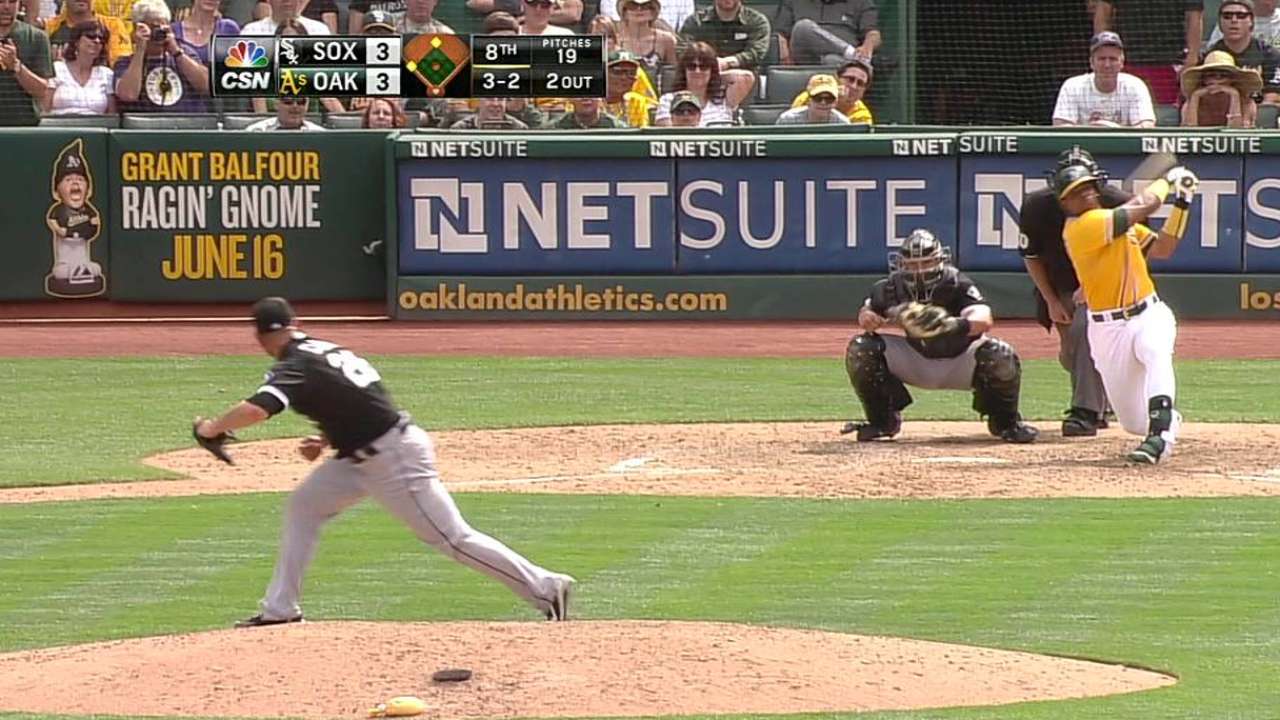 SEATTLE -- In closer Addison Reed and right-handed setup man Jesse Crain, the White Sox possess a one-two late-inning punch rivaling almost any team in baseball.
The question for this duo, aside from whether one or both will be selected as American League All-Stars, is how long will they continue pitching together? Crain seems to be the more likely of the two candidates to move, working in the final stage of a three-year, $13 million deal and putting together some of the best work of his career.
Unfortunately for the hurler, the White Sox level of excellence is not close to his career-best 22 straight scoreless appearances or 20 1/3 consecutive scoreless innings. Crain hasn't thought much about what direction he might be going if the White Sox continue to go south and general manager Rick Hahn decides to make changes.
"I mean a little bit, but I don't consume myself with it," said Crain before Tuesday's game at Safeco Field. "I can't control it, so all I do is worry about coming here every day and going about my business and throwing one pitch at a time when I'm out there. That's all I can do."
Crain has recorded 26 strikeouts over his scoreless streak, potentially increasing his trade value along the way.
The 24-year-old Reed, pitching in just his second full big league season, seems like much less of a trade prospect from a struggling White Sox squad.
Reed not only has established himself as a reliable closer, tied with Joe Nathan for third in the AL at 17 saves, but he is also under team control through 2017. The young hurler would like nothing more than to be like Paul Konerko and play for the White Sox for 15 years.
But he also takes a pragmatic view of the fact that when a team underachieves, there aren't many untouchables, if any. His closing predecessor, Sergio Santos, was traded two months after agreeing to a three-year extension.
"Just certain times in the season, a team might have to give up somebody in order to get another piece that they are missing," Reed said. "They might give up some guys that they don't want to or some guys that they saw staying with them for their whole career.
"It's not something I'm worried about or thinking about. If it happens, it happens. Right now, I'm with the White Sox and do everything I can to help this team win. It honestly doesn't go through my head.
"This is the team I was drafted by, and it would be awesome to stay with one team your whole career," Reed said. "If I had the choice, I'd stay with the White Sox until I threw my last pitch in the big leagues."
Scott Merkin is a reporter for MLB.com. Read his blog, Merk's Works, and follow him on Twitter @scottmerkin. This story was not subject to the approval of Major League Baseball or its clubs.