Santiago is headed for White Sox bullpen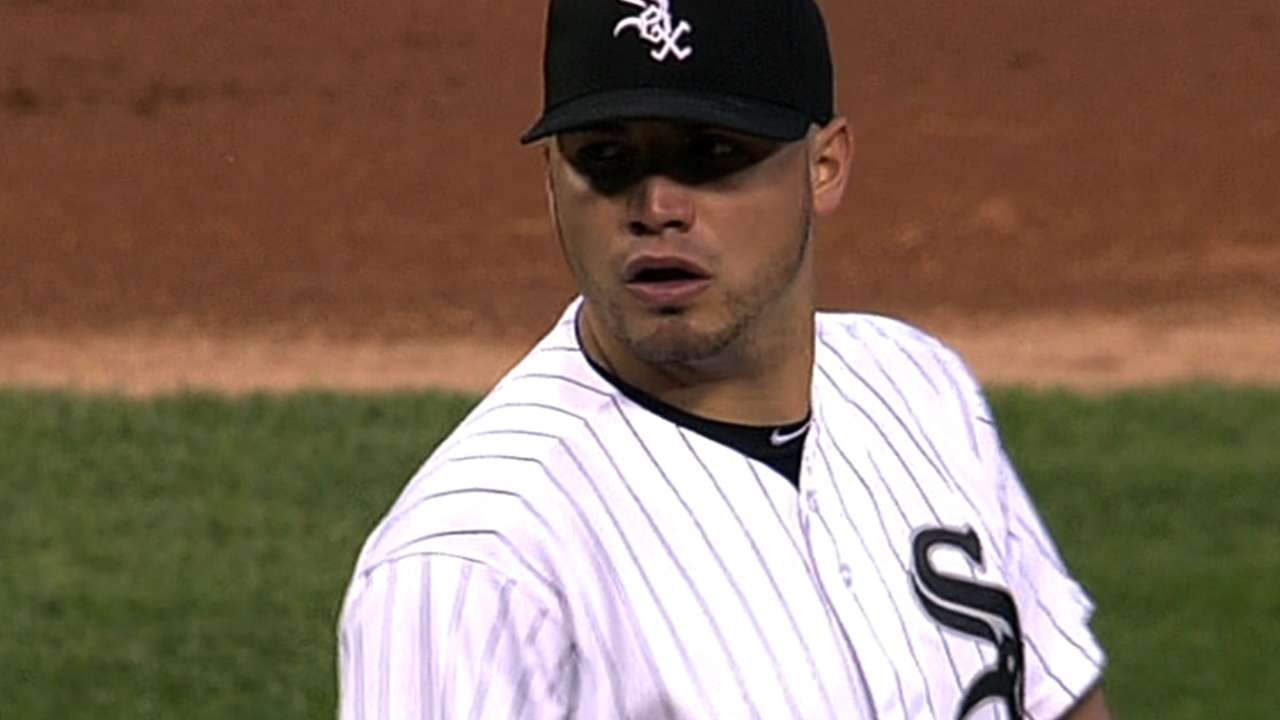 CHICAGO -- Dylan Axelrod's start on Sunday against the Marlins will not be his last one for the immediate future.
Both Hector Santiago and White Sox pitching coach Don Cooper confirmed to MLB.com that Santiago will be moving to the bullpen and Axelrod will stay as the team's fifth starter after John Danks returned to the rotation on Friday. Despite posting a 2.96 ERA over five starts, including 31 strikeouts over 27 1/3 innings, Santiago seems fine with the return to relief.
"I don't think anybody has lost their job," Santiago said. "Axelrod has earned his spot, and [Danks] is coming off the surgery. He's been here for years now, and everybody else is throwing the ball well.
"[Axelrod] was the only person I was competing with, but he's earned his job and done well enough to stay there. Like I said earlier in the year, I'm going to be in the rotation. It's going to happen. They've said it. It's just a matter of time when it's going to happen."
Santiago could pitch in long relief, but the White Sox have greater plans for him than just the middle innings. Matt Thornton is currently the only southpaw in the bullpen, so Santiago is ready for everyday work.
"Hector is an extremely valuable guy for us because he can do many roles," said Cooper of Santiago, who has made seven relief appearances this season. "Obviously, his time is not coming -- it's here. He has started for us. He's started well.
"We've got John Danks back, and that was the original plan. But Hector is too valuable and too good to keep him restricted in a role like [long relief]. He'll be ready every day, we are going to utilize him. We need him out there."
If something happens where a starter needs a break, such as Chris Sale being skipped last Wednesday due to a mild case of shoulder tendinitis, Santiago can slide right into the rotation. Cooper was impressed by Santiago's six innings of work in place of Sale against the Red Sox, pitching with one less day of rest, so the Sox know what they have. The best alignment as decided by the team, though, features Santiago in the bullpen and Axelrod as a starter.
"Listen, Axelrod has grabbed his opportunity and hasn't let go yet. We are not going to take it away from him," Cooper said. "The only people that have a right to try to take it away are the opposing teams, not us from pulling the rug out from under his feet. Nothing will please us more [than] if he goes out there and continues to do what he's doing."
"They said that I've earned my spot in the rotation, but right now we are better off with me in the bullpen," Santiago said. "I'm fine with it."
Scott Merkin is a reporter for MLB.com. Read his blog, Merk's Works, and follow him on Twitter @scottmerkin. This story was not subject to the approval of Major League Baseball or its clubs.