Sale adamant about pitching on Tuesday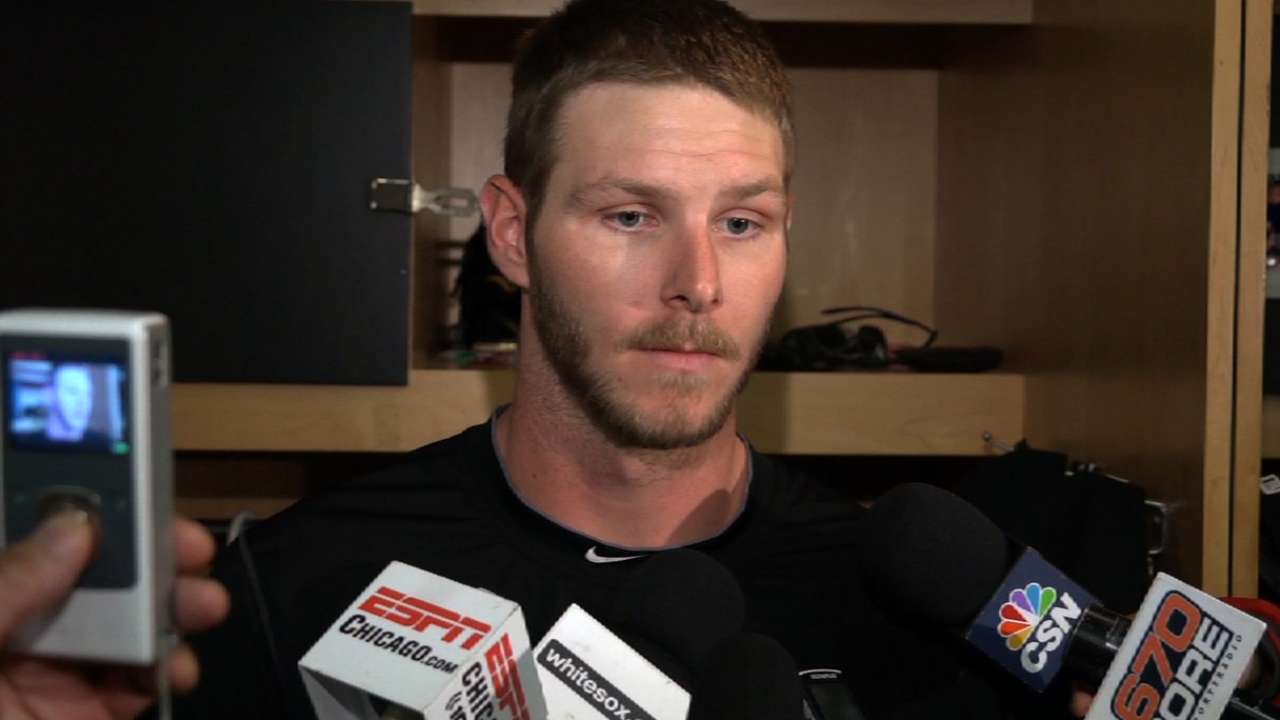 CHICAGO -- The usually eloquent Chris Sale stammered a bit when asked Friday whether he would fight even harder if his Tuesday start was skipped, much like his start was skipped this past Wednesday, because of a mild case of tendinitis in the back of his pitching shoulder.
"Yeah, I want to pitch. I'm gonna pitch on Tuesday. I think that's kind of set in stone," said Sale, before pausing, smiling and finishing his thought. "I want to pitch on Tuesday, and I'll leave it at that."
Sale went through his normal shoulder program Friday and didn't feel anything. He actually asked White Sox head athletic trainer Herm Schneider if he could play catch, but Schneider said to wait until Saturday to throw.
A bullpen session usually would come Saturday before a Tuesday trip to the mound for Sale. But more so than a bullpen session, Sale would like to be able to play some long toss before his next start.
"I'd just like to be able to let it go, ramp it up to as close to 100 percent as I can to just see how it feels throwing 100 percent," said Sale, who started May 17 in Anaheim and worked 7 2/3 scoreless innings, while fanning 12. "I wouldn't call a bullpen [session] a necessity, but I'd like to do it after not being on a mound for 10 days to knock some rust off and get some sharpness back in there."
"Again, Sale was a precautionary move by us," White Sox general manager Rick Hahn said. "He very much wanted to pitch in that game, but after talking to him and the doctors, we just pulled the plug on it to err on the side of caution."
There wasn't a fear that Sale would get hurt by simply trying to pitch through shoulder pain on Wednesday, but the White Sox were worried Sale might change his mechanics to compensate for the soreness. It's the same premise as shutting down Gordon Beckham until Wednesday, as the White Sox don't want the second baseman to return until he's doing things he's capable of doing at close to 100 percent and without pain in his surgically repaired left hand.
"One really nice thing that's been going on here, not just this year, but for the last several is that I think there's a very high level of trust in the players with not only the front office but our medical staff," Hahn said. "They understand how important it is for them to be clear with us about what they are feeling.
"You try to hero through some discomfort while you are rehabbing an injury and all of a sudden, you are looking for a multi-week setback instead of a few games."
Scott Merkin is a reporter for MLB.com. Read his blog, Merk's Works, and follow him on Twitter @scottmerkin. This story was not subject to the approval of Major League Baseball or its clubs.