Phegley making noise at Triple-A Charlotte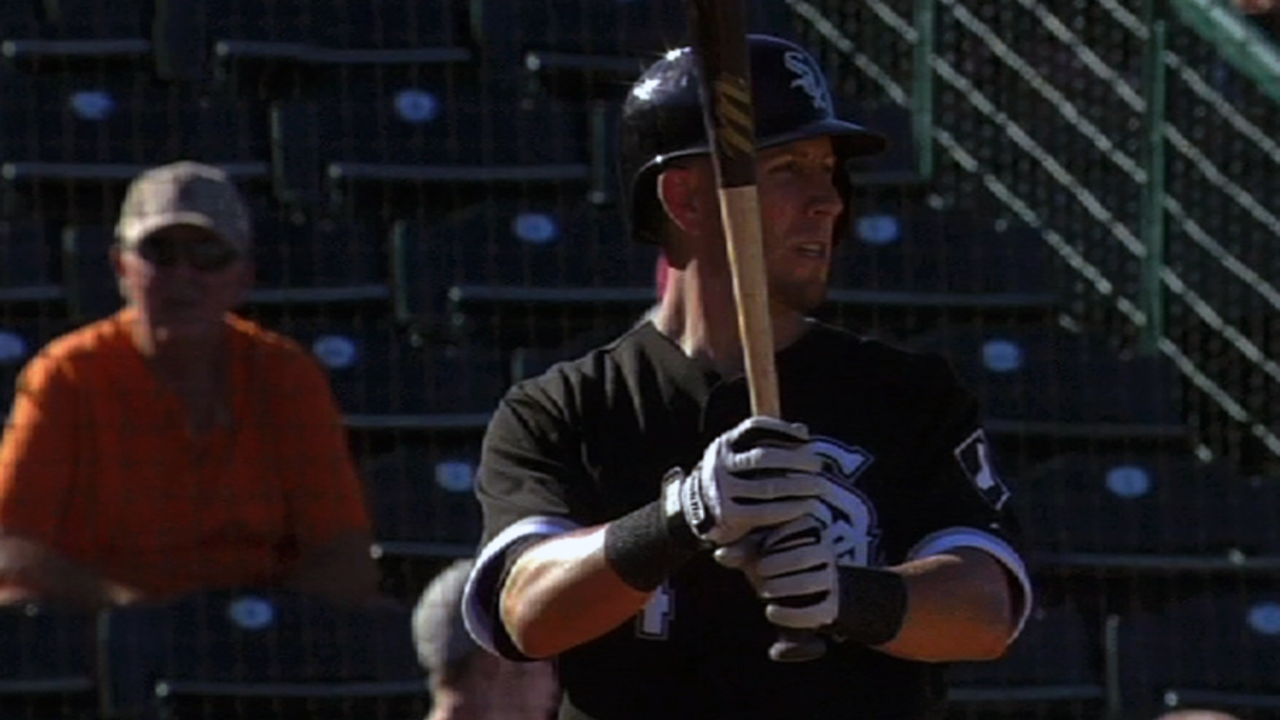 CHICAGO -- The .333 average, 11 doubles, 10 homers and 28 RBIs produced by catcher Josh Phegley at Triple-A Charlotte certainly are numbers that have caught the eye of White Sox fans. Phegley, 25, also has impressed many throughout the White Sox organization.
But this great start for Phegley doesn't mean he'll be with the White Sox playing every day any time in the near future. The team's confidence remains high in Tyler Flowers and Hector Gimenez.
"I don't know if that's entirely fair to anybody, in part because we've done a tremendous job as a pitching staff overall," White Sox general manager Rick Hahn told MLB.com when asked about Phegley coming to the Majors immediately. "When I talk about run prevention or the pitching staff or what we've been able to do from our starters or in the bullpen, some of that credit has to go to Tyler and Hector Gimenez and what they've been able to do with the pitching staff.
"When you make a switch at an integral position like that, you have to look at sort of the potential of the unintended consequences. It's not just an offensive change. There's also a very important defensive component. We are on a good roll right now from what our pitchers are doing.
"Nor is it reasonable to say, 'All right, Josh is hitting (.333) in Triple-A so come up here and do the same thing in his Major League debut and then take over this pitching staff and let's go,'" Hahn said. "That being said, I do think that Josh is showing himself capable of potentially being an impact catcher at the Major League level."
Phegley won a Minor League Gold Glove last year, after he was limited to 48 games in 2010 because of a battle with Idiopathic Thrombocytopenic Purpura, a rare autoimmune disorder that lowers platelet count. The sandwich pick from the 2009 First-Year Player Draft is fully healthy and showing it on the field.
"In terms of his performance, it has been outstanding," Hahn said. "He's been one of the best hitters in the International League thus far and he's done a nice job handling the staff.
"He's now able to fully convert on that potential without having to worry about any of the health issues or the side effects from any of the treatments. It's nice to see on a personal standpoint a player who had to fight through some difficult things to achieve at this level."
Scott Merkin is a reporter for MLB.com. Read his blog, Merk's Works, and follow him on Twitter @scottmerkin. This story was not subject to the approval of Major League Baseball or its clubs.