Danks champing at bit to join White Sox rotation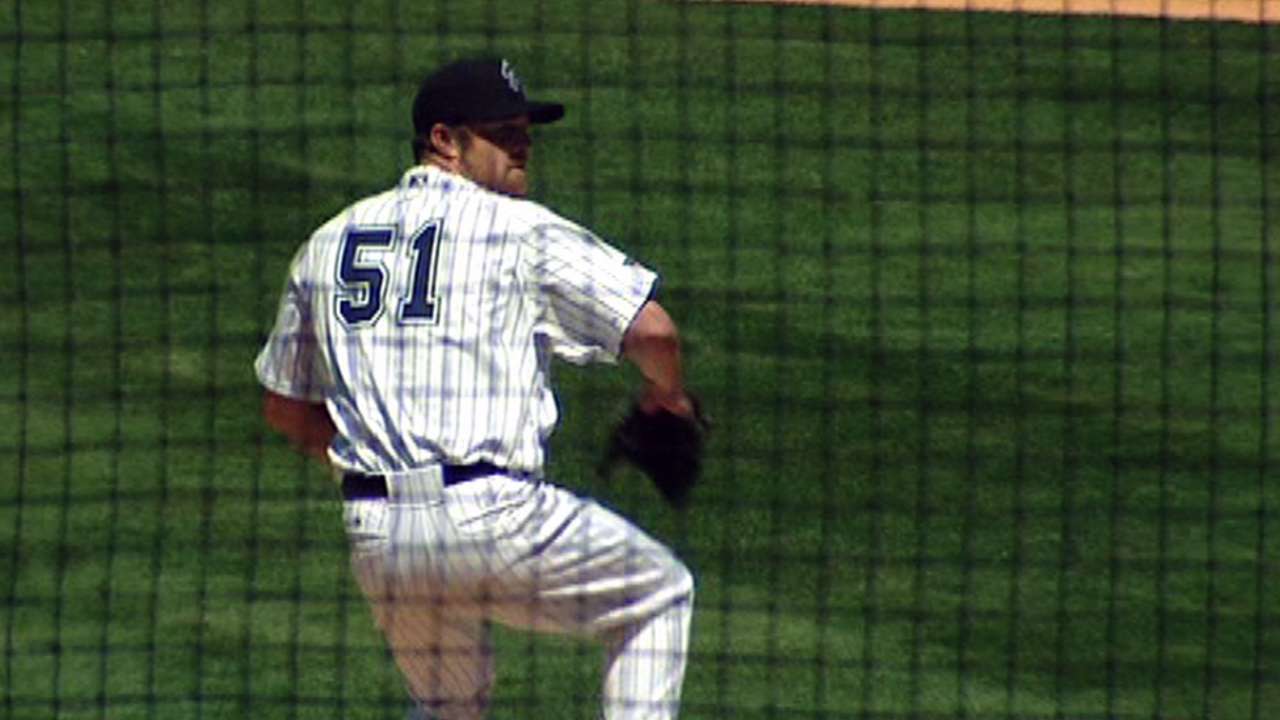 CHICAGO -- There's still no word on whether starter John Danks will return to the rotation later this week. The 28-year-old met with manager Robin Ventura and general manager Rick Hahn before Monday night's game and tried to plead his case for a speedy return.
Danks threw a bullpen session on Tuesday and said he felt no discomfort in his shoulder.
"I'd throw tonight if they'd let me. I don't make those decisions," Danks said. "The plan all along was to throw a side and see how it goes and go from there."
Danks has been building arm strength for the early part of the season as a part of his recovery from season-ending arthroscopic surgery, which cut his 2012 campaign short in May. Danks hoped the process would move quickly and he could open the season with the Major League club, but it became clear his velocity hadn't returned in Spring Training.
"It's been a long process," Danks said. "Hopefully it ends this weekend. Not being able to pitch, you want to do it. That's tough. Once I got out of Arizona and realized there was a timetable, it got a lot easier, and here we are, hoping for good news."
Hahn and Ventura have tabled the news until after Wednesday's game, when they said an announcement would be made about the next step in Danks' recovery. Ventura said he liked what he saw from Danks' bullpen session Tuesday and didn't notice any pain during the session.
"I feel like I'm close to getting where my stuff was before I got hurt, so stuff-wise there won't be too much of a drop-off," Danks said. "My biggest thing is throwing the ball where I want to and making it do what I want it to do."
Danks threw 95 pitches in his fourth rehab start with Triple-A Charlotte on Saturday, allowing three runs (two earned) on two hits over 4 2/3 innings. He struck out five and gave up four walks, but Hahn viewed the start positively. He said the team doesn't put much stock into the results of rehab starts and views them as a way for injured players to work on various elements of their game.
Ace Chris Sale, who was scratched from Wednesday's start, said the clubhouse is ready for Danks' return. Sale empathized with the long road that the veteran has traveled to return from the surgery and said it's made him realize an appreciation for his own health.
"You do something every day for your entire life and someone tells you that you can't do it anymore, it's tough. Whether it's riding a bike, pitching, talking, seeing," Sale said. "I can't wait [for Danks to return]. It's going to be awesome. Whenever it might be, I'll be there front and center. It will be a great day, regardless of the results and what happens."
Ethan Asofsky is an associate reporter for MLB.com. This story was not subject to the approval of Major League Baseball or its clubs.