Veal rejoins Sox to add options in bullpen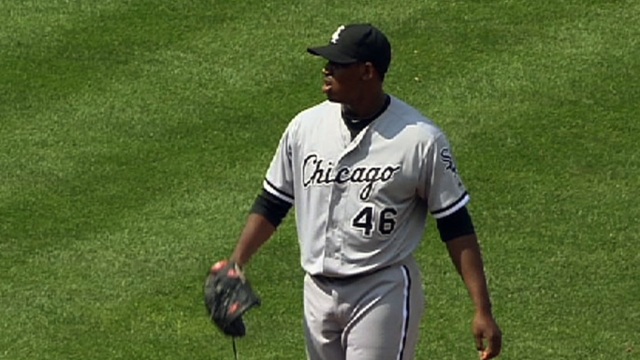 ANAHEIM -- A second left-handed reliever was added to the White Sox bullpen when Donnie Veal was called up from Triple-A Charlotte prior to Saturday afternoon's contest against the Angels. Veal, 28, took the spot of Deunte Heath, who was optioned to Charlotte following Friday's victory.
Veal posted a 1-0 record with a 4.26 ERA over 12 relief appearances after breaking camp with the White Sox but was optioned to Charlotte on May 1 when he struggled with control, especially on his out-pitch, the curveball. The White Sox hope the Veal who limited left-handed hitters to three hits in 32 at-bats last year is the pitcher who has rejoined the team.
"He went out and did it," said White Sox manager Robin Ventura of Veal's Minor League adjustments, fanning 10 over eight scoreless innings. "I don't know if it's a reward, but you get him back as quick as you can because he's important.
"There are different spots in the game where it becomes important to be able to have them. I think even the way we've been using Matty [Thornton], it's one of those where you can do more than that, but you're saving him for that one tough at-bat against a lefty. Donnie, we've had good reports on him of getting his curve back and it's nice to have him back."
Thornton knows that the White Sox have a group of right-handed relievers who can handle left-handed hitters as well as right-handers. The veteran readily acknowledges that an effective Veal simply makes a strong bullpen unit even better.
Thornton has gone 11 straight appearances without allowing an earned run, partially because of changes in mechanics he made after watching video.
"Just a couple of tweaks that I saw. It wasn't anything major, crazy or an overhaul," Thornton said. "But just a couple of little things that I wasn't doing with my drive to the plate. Just made some adjustments and got the ball down in the zone.
"It was something I was worried about with balls up in the zone. I got it back down in the zone and the breaking ball has been better."
Scott Merkin is a reporter for MLB.com. Read his blog, Merk's Works, and follow him on Twitter @scottmerkin. This story was not subject to the approval of Major League Baseball or its clubs.