Sox focus on fundamentals in practice session
Addressing defensive lapses, Ventura runs position players through drills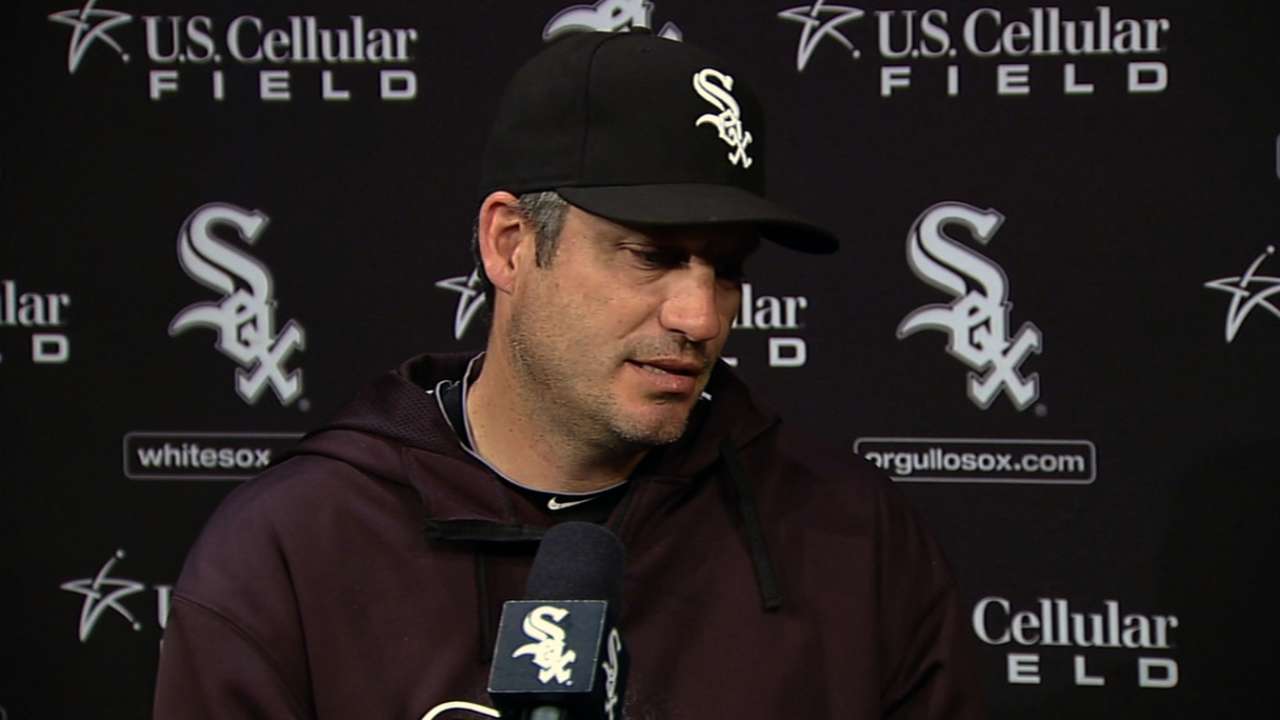 MINNEAPOLIS -- Hindered by an ongoing rash of fielding miscues and mental lapses, the White Sox are taking a stripped-down, back-to-basics approach.
In the aftermath of the White Sox 10-3 loss to the Twins on Monday, manager Robin Ventura firmly decreed that his struggling players would be putting in extra work to rid themselves of the self-inflicted errors that have contributed to derailing their season.
As it turned out, Ventura's claim wasn't an empty promise. The Sox held an out-of-the-ordinary 45-minute practice session five hours before Tuesday night's game against the Twins at Target Field, running all position players through a variety of simple fundamental drills.
There seemed to be acceptance throughout the clubhouse that the extra practice was clearly warranted.
"There was a need to do that," first baseman Adam Dunn said. "We've got guys out of position, things you worked on the first day of your very first Spring Training. Somewhere down the line, we got away from what we did very well last year. Today kind of put everybody back to doing the little things that we needed to do."
A mistake-filled loss to the Twins one night earlier served as a breaking point of sorts. Shortstop Alexi Ramirez fumbled a playable ground ball with the bases loaded in the third inning, resulting in an error that opened the Twins up to mount a four-run outburst.
Ramirez's miscue marked the fifth straight game the White Sox have committed an error, which was an American League-high 29th of the season. Only the Cubs and the Nationals have more.
The Sox on-field flaws have gone beyond just what shows up on the scorecard. Multiple times, players have been caught out of position, missing out on chances to get key outs. Chicago's fielding percentage (.978) was tied for the lowest mark in the Majors entering Tuesday.
After falling six games under .500 (15-21), Ventura felt a wakeup call was necessary.
"You get their attention and they realize the things that you consider unacceptable. There are consequences to everything that goes on," the skipper said.
"I'm supposed to be quality control in this. That's part of coming out here and making sure everybody is doing it the way they're supposed to be doing it."
There might more fundamental workouts coming for the White Sox as Ventura alluded to a desire to hold sessions until the situation is remedied.
Nate Sandell is a contributor to MLB.com. This story was not subject to the approval of Major League Baseball or its clubs.