Flowers feeling better than his offensive stats
White Sox catcher expects hits to come for him with patient approach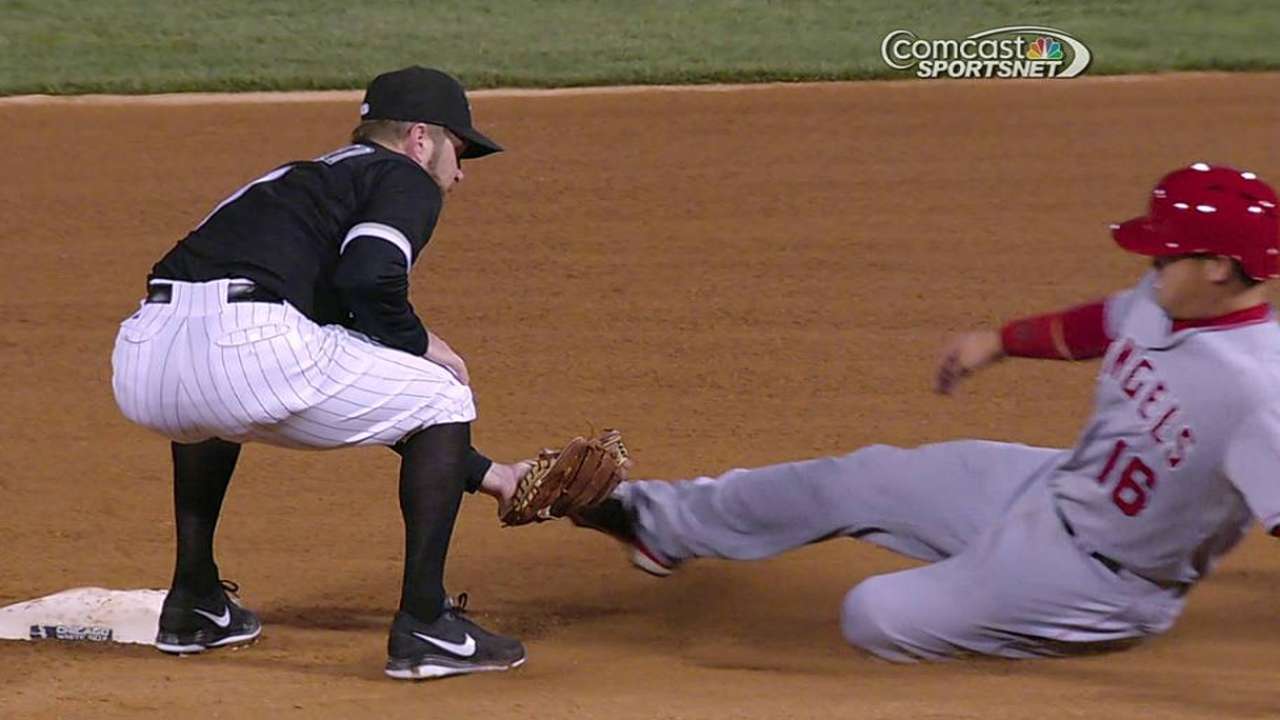 CHICAGO -- The 5-for-27 showing in May by Tyler Flowers wouldn't exactly support the following comment.
But the White Sox catcher, hitting .180 overall following an 0-for-4 performance in Saturday's 3-2 loss to the Angels, feels in good hitting position.
"Probably these last ... since Texas, I felt great every time in the box," Flowers said. "I've only managed to square up just a few, but as far as just how I feel in there, I feel dangerous when I'm in the box.
"It is a little frustrating when you look at the whole, not just the team, but for myself, this first month and whatever, I know we are all better than what we are doing: especially me. I know I can be better than what I'm doing. At the same time, you can't really, you try not to let it wear on you.
"I feel good," Flowers said. "Maybe it's just a matter of running into some tough pitching or not getting some real good pitches to hit."
Since January, when A.J. Pierzynski departed for Texas after eight years with the White Sox, Flowers has drawn focus as not just the new guy in the starting lineup, but also the young player replacing an organizational staple. At almost six weeks into the season, Flowers simply is a part of a slumping offense that ranks 15th in five different American League categories.
While Flowers feels dangerous, he understands results are the judgment more than feel. That fact doesn't mean Flowers has lost any confidence and believes his fortunes soon will turn.
"Just try to keep putting balls in play and get the barrel on it, because it's got to turn at some point. It's got to find the holes eventually," Flowers said. "Since the beginning of the [last] road trip, I've done in my opinion a pretty good job of battling in at-bats and swinging at overall good pitches, not really chasing too many things and putting balls in play.
"Right now, it seems like every ball I put in play is hit in the ground or one hopping right at someone, or just missing underneath to an outfielder. But I think one of the biggest things in this game is how you feel in the box. If you don't feel good, it probably won't be productive and I felt great this whole road trip. As long as I can continue feeling good and dangerous in the box, I think it's going to have to change."
Scott Merkin is a reporter for MLB.com. Read his blog, Merk's Works, and follow him on Twitter @scottmerkin. This story was not subject to the approval of Major League Baseball or its clubs.