Injuries open up opportunities in rotation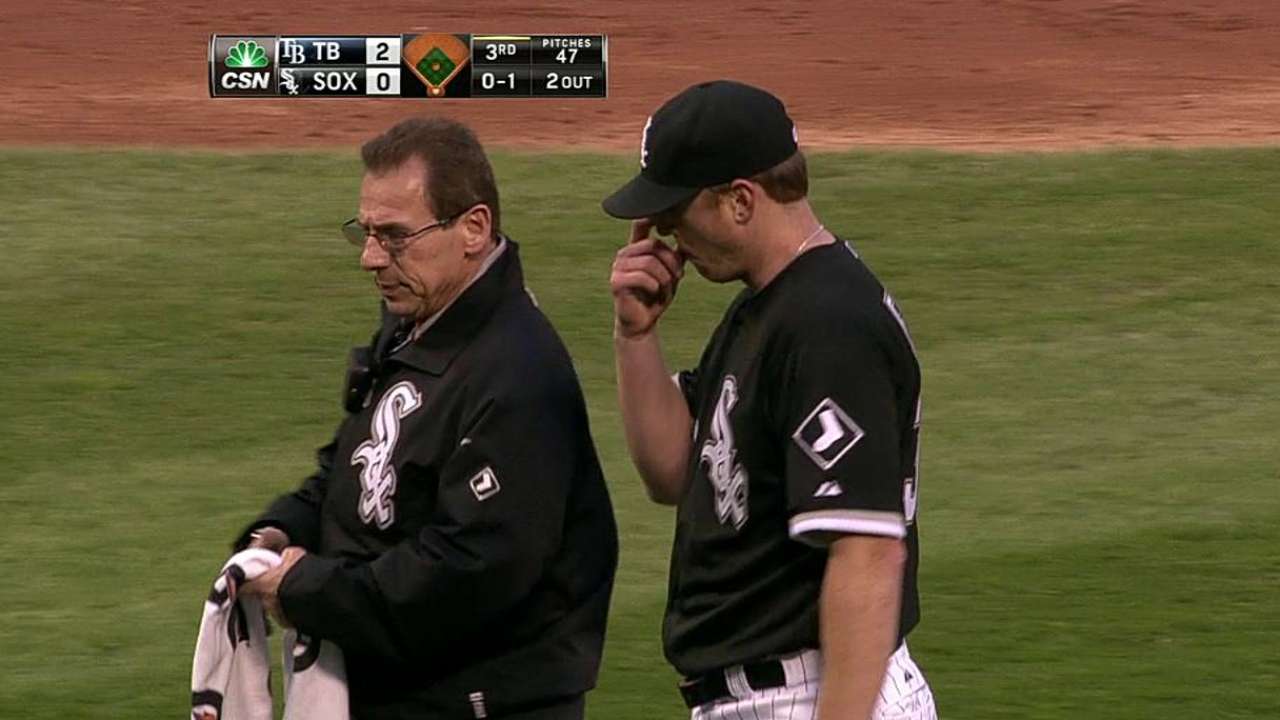 CHICAGO -- The overriding feeling coming from general manager Rick Hahn and the White Sox organization concerning Gavin Floyd's season-ending surgery on Tuesday was a sense of sadness for a good kid temporarily having his livelihood interrupted.
"You'd hate to see anybody lose time to injury, much less go through what is a catastrophic injury and surgery," said Hahn of Floyd, who had successful surgery to repair his ulnar collateral ligament and flexor muscle and will be out of action from 14-19 months, after sustaining the injury in a start on April 27. "The good thing is that what he had done is common.
"He has a treatment path sort of laid out ahead of him with milestones he can meet in his recovery to know he's progressing and it has a fairly high success rate. You've seen guys come back not only as good but some arguably better after they've had a repair phase."
Floyd, 30, certainly was steady if not always spectacular during his seven years with the White Sox. Once he became a full-time starter, the right-hander made at least 29 starts, won at least 10 games and threw at least 168 innings from 2008-12. His best run came in 2008, when Floyd produced a 17-8 record with a 3.84 ERA over a career-high 33 starts.
Floyd's absence, coupled with John Danks' continued strengthening of his surgically repaired left shoulder, has given young starters such as Dylan Axelrod and Hector Santiago a chance to prove their rotation mettle.
"It does create opportunities for guys and we've seen Hector and Dylan so far already take advantage to fill in the rotation," Hahn said. "We did feel going into the season starting pitching was going to be one of our strengths and thus far it's been tested and it has proven to be one of our strengths.
"Again, it's unfortunate for Gavin. But we feel we have the reinforcements in house to not miss a beat."
Hahn also feels that Floyd's makeup will help him overcome the injury and eventually get back to the Majors.
"We're certainly rooting for him to make the full, quick, speedy recovery, but it takes time," Hahn said. "The good thing about Gavin is anyone who has been around him for the last couple of years knows he is an extraordinarily diligent worker and if anyone is going to put in the time and commitment needed to full recovery, it's Gavin.
"This is a setback and a negative thing. But if there's someone with the work ethic, commitment and attitude, it's a guy like Gavin. Everything is pointing in his favor. It's just going to take a little while."
Scott Merkin is a reporter for MLB.com. Read his blog, Merk's Works, and follow him on Twitter @scottmerkin. This story was not subject to the approval of Major League Baseball or its clubs.