Hahn confident past history will predict future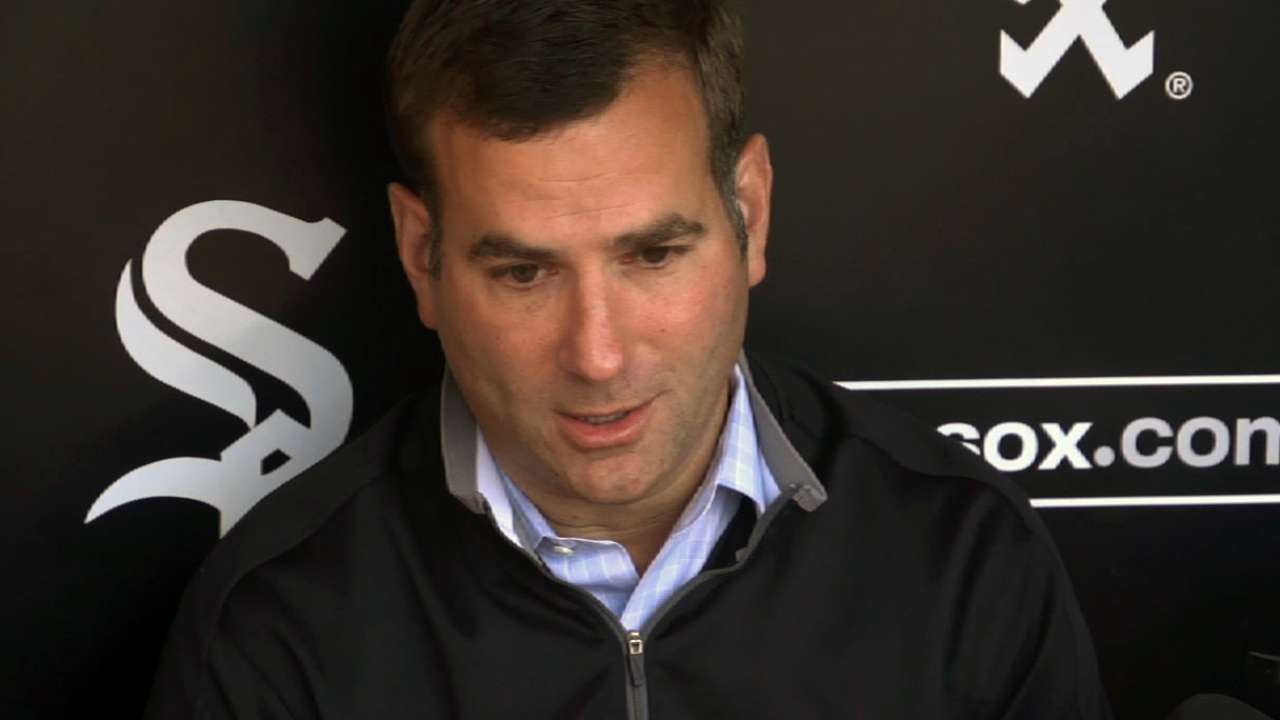 CHICAGO -- As a long-time fan of the Chicago Bears, Rick Hahn would get upset when the Monsters of the Midway started a season 1-2.
Then he would realize those three games were just a small segment of the 14-game or 16-game ledger, and it was too early to overreact. It's the same sort of pragmatic approach the White Sox general manager is following in regard to his team's 14-18 record and last-place standing in the American League Central entering Friday's series opener with the Angels at U.S. Cellular Field.
"That's essentially where we are in the baseball season, less than 20 percent of the way into the schedule," said Hahn of the 33 games in a 162-game schedule. "We have been disappointed with the way things have started from an offensive standpoint, and even defensively has been a little erratic and not up to the standard we set last year.
"With that being said, we have a fair amount of guys with some substantial track records behind them which gives you reason to believe there will be some improvement back toward those career norms. We are talking about a team that last year was fourth in runs scored and there's no reason to believe this permutation of that team with some improvements in some areas and a lot of the same personnel in others is going to end up at the bottom of the league in runs scored.
"We expect there to be a correction fairly soon," Hahn said. "But thus far it has been disappointing and it's time to get going."
Hahn isn't one for making massive personnel moves this early in the season, choosing instead to let his players show their "true performance levels over an extended period of time." But that wait won't be indefinite or carry through the whole summer with hopes that things get better.
The White Sox have just two opponents with a current record over .500 in their 20 games to finish May. The team is getting healthy, but the biggest concerns are getting a 13th-ranked defense in the AL and an offense ranking 15th in five separate categories considerably stronger.
"There are subsets you can cut up that look worse than others but across the board, the offense is not up to the level that we're expecting nor the level of the past performance nor the level we expect we're going to get going forward," Hahn said. "[Clutch hitting] is one symptom of something that's not going well and we expect to improve."
"We know it's a good division and we know there are teams out there playing well and will play well," White Sox captain Paul Konerko said. "You can't expect teams to come back to poor level of play. Teams will play well. There seems to be in every division a couple of teams that get going and you try to be one of them."
Scott Merkin is a reporter for MLB.com. Read his blog, Merk's Works, and follow him on Twitter @scottmerkin. This story was not subject to the approval of Major League Baseball or its clubs.