Healthy Danks shifts to harnessing command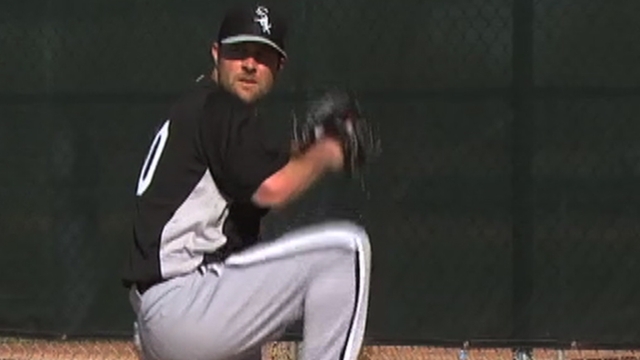 NEW YORK -- The five walks issued by John Danks while pitching for Triple-A Charlotte on Tuesday night left the left-hander to characterize his second Minor League rehab start as not being awful but not being great.
Then again, the major positive emanating from this five-inning, 92-pitch effort centers on the fact that Danks now is worried about problems germane to every other starting pitcher and not nearly as focused on his health. Danks might only need two more rehab starts before returning to the White Sox and completing the comeback from season-ending arthroscopic shoulder surgery last Aug. 6.
"Health-wise, I feel great," Danks told a pool reporter Wednesday from Columbus, where the Knights were playing. "Even right now, day after, I feel great. Between starts and on the side, everything feels good. Everything is progressing. I'm coming along. I'm on an upswing still."
"Now we're talking about games and sequences and pitches and baseball stuff," said White Sox pitching coach Don Cooper of Danks. "Before it was just, 'How you feeling?' Well, he is feeling better, and now it's trying to fine-tune things and be equipped enough to come up and win a Major League ballgame, and that's what we're still searching after."
Danks struck out four and allowed four hits, including a Matt LaPorta homer. His velocity was in the 88-89-mph range, topping out at 90 or 91. For a second straight rehab appearance, Danks also liked the way his cutter was working.
"Last year when I was active, I wasn't always able to make the cutter do what I wanted to," Danks said. "So to regain feel for that and make it do what I want, that's a big pitch for me, because it plays off my changeup big time."
As for that changeup, one of the things Danks needed to work on was getting greater velocity from his fastball to present a greater differential between the two pitches. Cooper pointed out Wednesday that Danks' changeup was never by the book, with a fastball at 92 mph and a change at 85 or 86.
"But the hitters showed us they're out front, because he's got a real good changeup," Cooper said. "He throws it with great hand speed and it had the hitters out front. The hitters will be the first ones to let you know if it's not enough."
Next up for Danks figures to be a Sunday start with Charlotte at home against Pawtucket, with one more Charlotte start to follow. If everything progresses accordingly, Danks could be back with the White Sox for the Marlins home series the weekend of May 24.
"All I know is he's closer, and it could be imminent, really -- but he has got a few more things to iron out," Cooper said. "It's been a big climb since he left Spring Training, and he's been climbing all winter. But to pitch and pitch effectively at the Major League level, you have to have things in order. He's getting closer, and hopefully real soon he'll have it all in order."
"If I take that [Tuesday] stuff down, with just halfway decent command, I think I have a chance," Danks said. "That's not too far from where I'm at normally."
Scott Merkin is a reporter for MLB.com. Read his blog, Merk's Works, and follow him on Twitter @scottmerkin. This story was not subject to the approval of Major League Baseball or its clubs.