Sale perseveres into late innings to save bullpen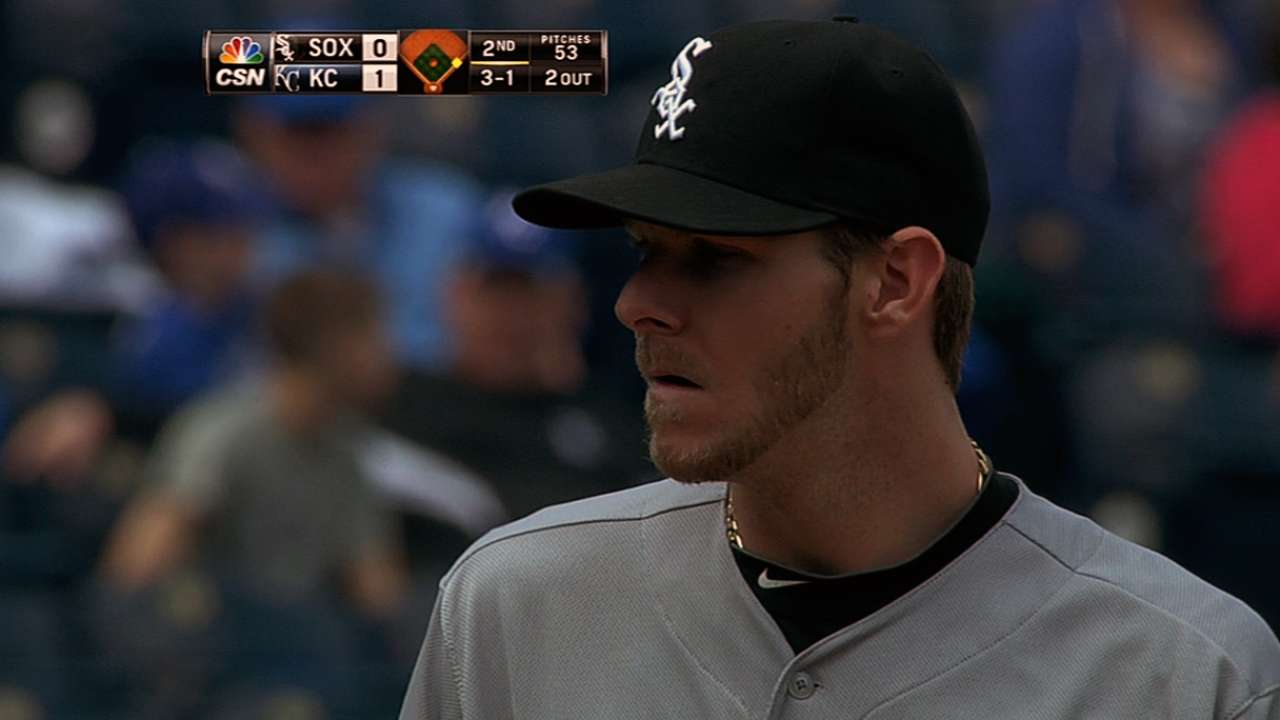 NEW YORK -- There was no victory attached to Chris Sale's name Monday, despite a 2-1 win over the Royals in 11 innings. But Sale's ability to hold Kansas City to one run into the eighth inning, even after throwing 57 pitches over the first two innings, gave the visitors a chance to pull off a late rally.
"Keep your team in the game and keep less runs on the board than the other team. That's the goal," said Sale with a smile. "But sometimes in that scenario, it's keep it right where it's at and you want to save as many bullpen arms as you can, especially when you go through a long haul. Any time you can limit the damage and just keep the game right where it's at, you know it's a plus."
Sale said pitch count was the last thing on his mind after those two extended innings. His goal simply was to get quick outs.
"You pitch only every fifth day, so I want to be out there as long as I possibly can, whether that's 103 pitches, 120 pitches, 140 pitches," said Sale, who matched a career high with 119 pitches. "You want to be out there as long as you can.
"It's important to save bullpen arms because those guys are running out there 50, 60 and maybe even 70 times a year. Each appearance, even if it's one guy or two guys, one inning, those build up and the fresher you can have these guys at the end of the year, the better off we'll be."
As for the Royals extending Sale's workload, the White Sox ace gave more credit to Kansas City than questioning his stuff. Sale felt as if he was "throwing a metal ball to magnet bats" in those opening two innings.
"They were fighting it off, a scrappy team. They are an athletic team," Sale said. "All those guys have very good hand-eye coordination.
"Every time I pitch vs. them, I seem to give up a bunch of hits and don't strike out a lot of guys. Maybe not walk as many guys, because it's a free swinging team, but they put the bat on the ball. They put the ball in play and it either goes their way or it doesn't."
Scott Merkin is a reporter for MLB.com. Read his blog, Merk's Works, and follow him on Twitter @scottmerkin. This story was not subject to the approval of Major League Baseball or its clubs.