Peavy: Injuries no excuse for poor overall play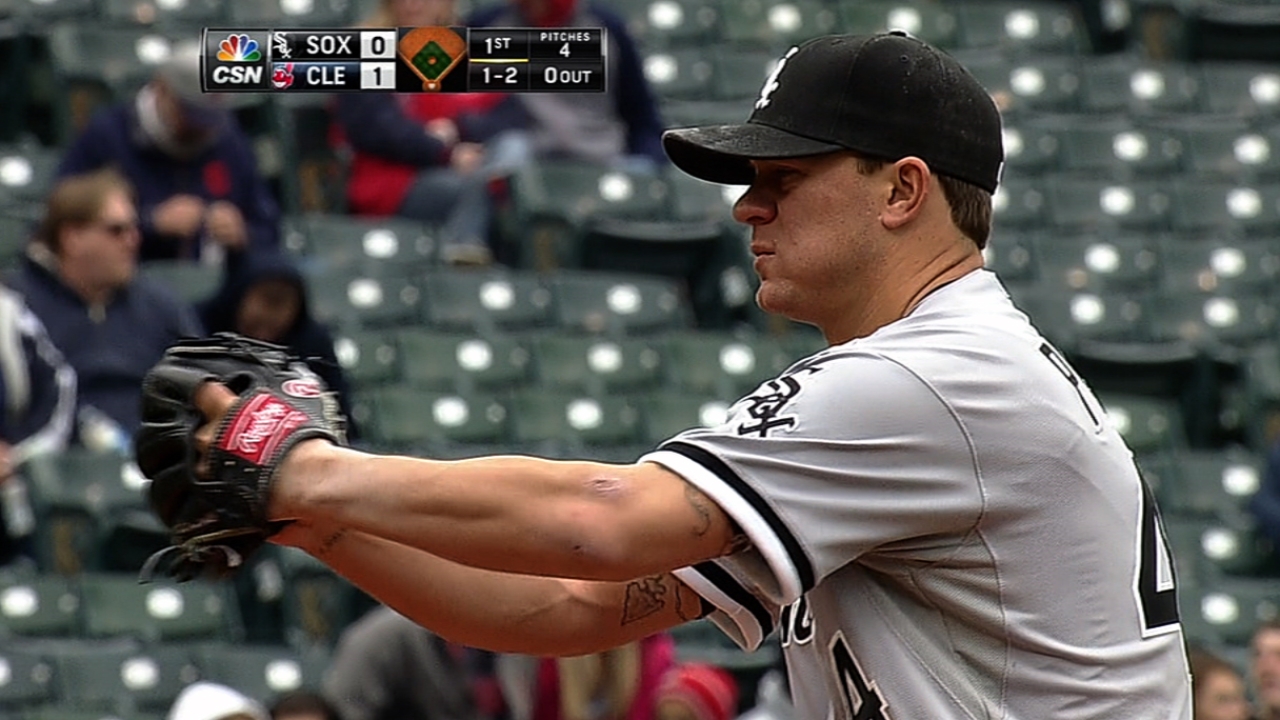 ARLINGTON -- With six White Sox players currently on the disabled list, including four who were penciled in for major 2013 roles, Robin Ventura's crew could be considered in survival mode until June when some of these players begin to return.
Jake Peavy, one of April's top performers for the South Siders, doesn't view the team's situation in such a dire manner. The right-hander simply believes the White Sox have to play better baseball to contend, regardless of health concerns.
"It's not the guys we lost are the reason we are not playing good fundamental baseball on any side of the ball. And it's not on the coaching staff," said Peavy prior to Wednesday's contest. "They are doing every bit of what they did last year and they are pulling their weight. It comes down to every man in this clubhouse looking himself in the mirror and asking what they can do more to help this ballclub.
"Every one of us can look back on this last month and realize that we can give a little bit more than we got and play a little bit better than we played. That's what it's going to take if we are going to climb out of this thing and just shore up all three facets of the game. They need to be a little bit better than they have been.
"I don't think anyone in here will tell you any different than that," Peavy said. "Baseball is contagious as well. When you find little ways to lose every night, that kind of gets contagious. We just have to get on a roll. A few nights in a row we get a big hit or get a big pitch thrown to get us out of a jam, that stuff gets contagious and you go on a run and get back around .500."
Entering Wednesday's second game of this eight-game road trip, the White Sox bullpen had an 0-4 record with a 7.42 ERA over its last eight games. The relievers produced a 1.63 ERA in the first 17.
Two errors in Tuesday's loss gave the White Sox 18, tied with Oakland for the second-most in the American League, and their .980 fielding percentage is tied for last in the AL. Their offense ranks last in batting average, on-base percentage, walks and average with runners in scoring position.
Certainly losing players such as Gordon Beckham, Gavin Floyd, John Danks and Dayan Viciedo make a difference in these numbers. But Peavy doesn't want those injuries to become a crutch for a team without much room for error.
"You can't win it in April, but you can certainly dig yourself a hole that's hard to climb out of and we are trying to avoid that at any cost," Peavy said. "We have to understand our identity as a team. We show up every night expecting to win, but we can't just because we show up to the ballpark thinking we are going to win. We have to flat out outwork and out-want the other side. Outplay them.
"That's something we did last year that just hasn't happened. Pitching-wise, hitting-wise and defensively certainly we have to do better than we've been. If we do that, we are going to be fine and compete with anybody in the division just as we did last year.
"But it has got to happen here shortly or we are going to look at ourselves from the bottom [of the division]," said Peavy, who will pitch Thursday's finale against the Rangers. "Then you got to play over and above to get back to where you need to be. We understand there's a sense of urgency that we need to kick ourselves in the rear end a little bit and it's time to go."
Scott Merkin is a reporter for MLB.com. Read his blog, Merk's Works, and follow him on Twitter @scottmerkin. This story was not subject to the approval of Major League Baseball or its clubs.