Veal out, Omogrosso up in bullpen shakeup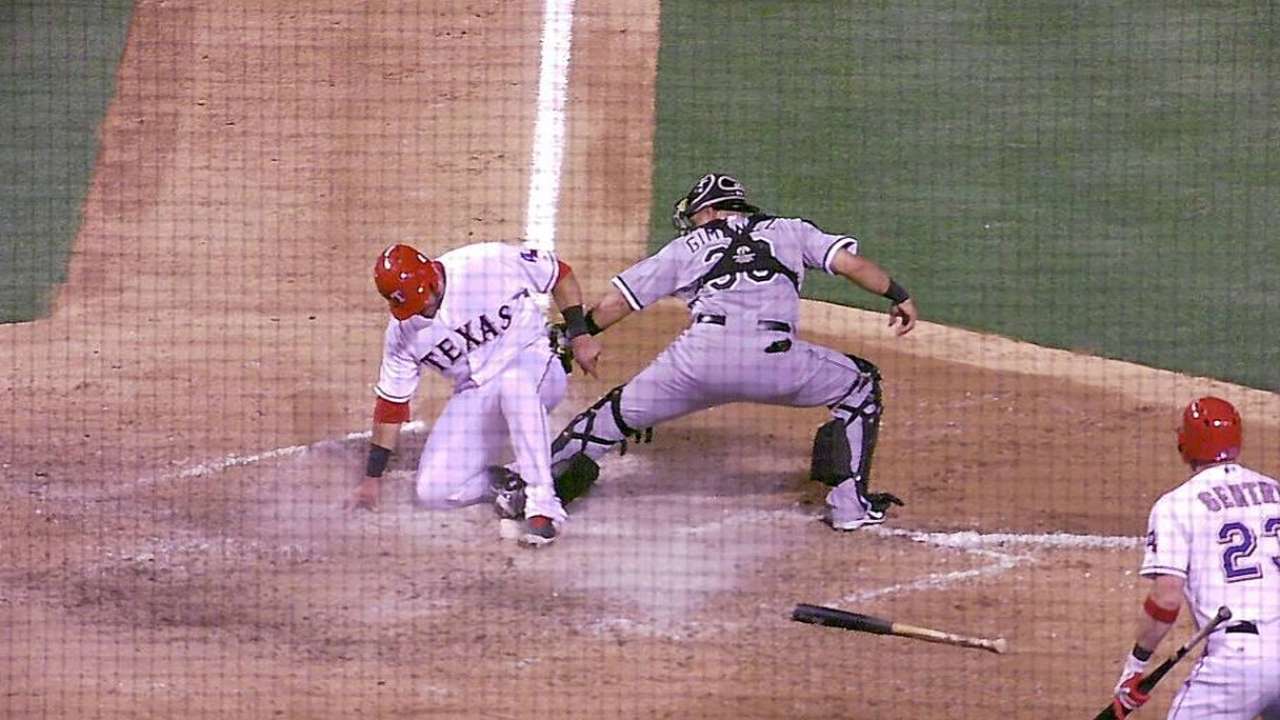 ARLINGTON -- Donnie Veal was optioned to Triple-A Charlotte prior to Wednesday's game against the Rangers, with Brian Omogrosso recalled. Veal's demotion means the White Sox have one left-hander in Matt Thornton and six right-handers in their bullpen, which also means they will go without that one-batter specialist.
According to pitching coach Don Cooper, Omogrosso and Deunte Heath will handle the "loose innings," when the White Sox stand significantly ahead or behind.
"The rest of the bullpen, it will be their innings," Cooper said.
"Now you can kind of lengthen some stuff out," said White Sox manager Robin Ventura of his relievers. "Give them opportunities."
Matt Lindstrom walked Geovany Soto with one out in the sixth of Texas' win Tuesday, with the game deadlocked at 4. In the new arrangement, Lindstrom would have stayed in the game to face left-handed-hitting Mitch Moreland, but the White Sox believe this scenario was the perfect one to use the left-handed-throwing Veal.
It resulted in a run-scoring double by Moreland and the fifth time this year that Veal has faced just one batter in an outing and not retired him.
"We gave him every shot," said Cooper of Veal, who had a stellar 1.38 ERA in 24 games last season, but couldn't throw his curveball for strikes. "Donnie Veal is in a pass-or-fail role. It's a small thing. And if you aren't getting that lefty, it's like a chain out there and somebody else has to do the work.
"If you are not getting the lefty or walking the lefty or giving up hits, we just don't have the luxury of giving you the time to try to work your way through it because it becomes more work for other guys. So, we made that move."
Omogrosso posted a 2.57 ERA over 17 relief outings for the White Sox last season. He had a 6.52 ERA with Charlotte in '13 but posted a 2.70 ERA over his last five games thanks to some extra work put in with Knights pitching coach Richard Dotson.
"I just got a little messed up," said Omogrosso, who limited right-handed hitters to a .224 average last season with the White Sox. "I started throwing the ball uphill as opposed to downhill a little bit and had to tweak a few little things.
"I'm one of them guys that, I struggle with giving up the single number. When things are going bad, I'm a crooked number kind of guy which means I've got to stay on pace."
Scott Merkin is a reporter for MLB.com. Read his blog, Merk's Works, and follow him on Twitter @scottmerkin. This story was not subject to the approval of Major League Baseball or its clubs.