Keppinger sees similarities in White Sox, Rays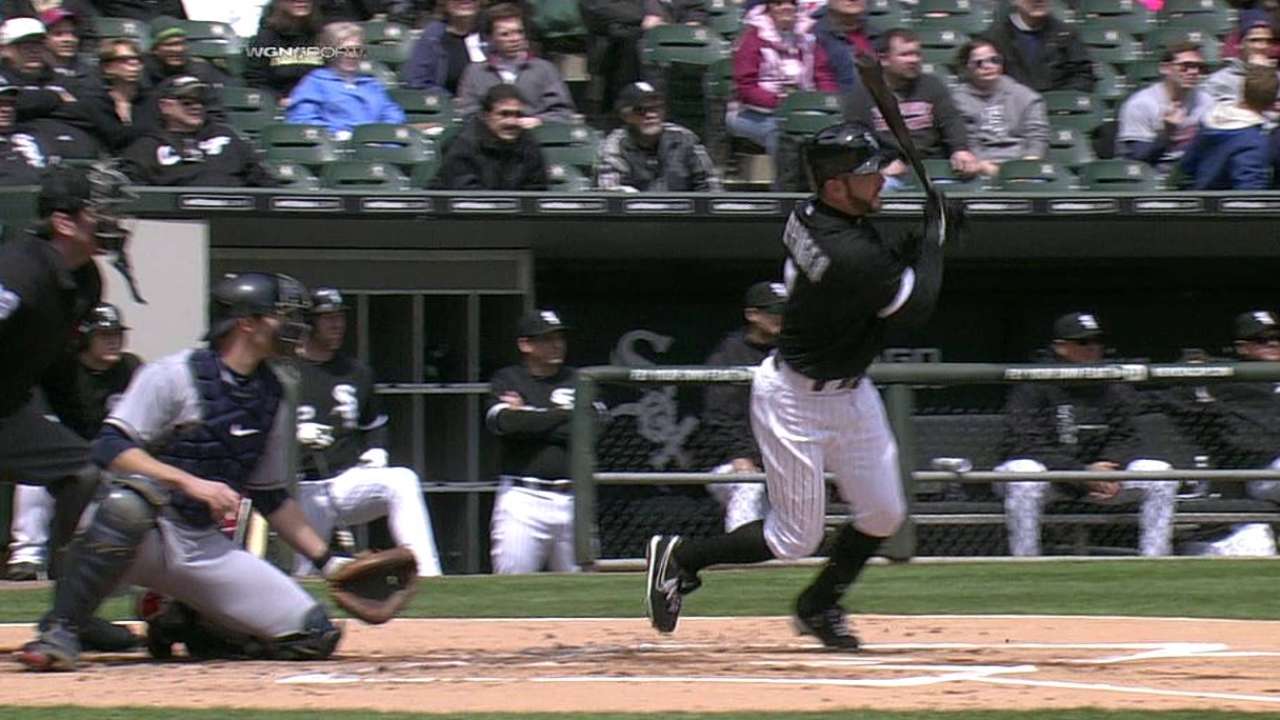 CHICAGO -- Jeff Keppinger spent just last season with the Rays, albeit his best of nine big league campaigns, featuring a .325 average, nine homers and 40 RBIs.
He has only been part of the White Sox for 21 regular-season games including Thursday. But he already sees a similarity between the way the two teams are run by managers Robin Ventura and Joe Maddon.
"There are similarities in a way," Keppinger said. "Robin is laid back. He's not all fired up and jumping down your throat if you make a mistake. He understands the game and that guys are going to make mistakes, so sometimes things aren't going to go your way and sometimes those things are going to happen.
"Over there [with the Rays], they try to keep a loose atmosphere. They don't try to put a lot of pressure on the guys. They know we're here for a reason and know we take pride in what we do, so they don't set many rules over there.
"They don't have us saying, 'You need to do this. You need to do this. You need to do that,'" Keppinger said. "Basically, they treat us like grown men and they expect us to do the work we come to do every day."
The offensive production for Keppinger as part of the White Sox hasn't exactly been what was expected when he agreed on a three-year, $12 million deal as a free agent during the offseason, although it still is very early. Keppinger endured the longest hitless drought of his career, covering 24 at-bats from April 15-21, but entered Thursday's series opener against his most recent team with back-to-back two-hit efforts.
Keppinger felt as if he was barreling up the baseball when talking about his struggles over the weekend, but also believed there was a slight problem with his swing. He seems to have made an adjustment through work with hitting coach Jeff Manto.
"It was more I need to utilize the right side of the field more often, where it seemed like I was pulling off balls and trying to pull them," said Keppinger.. "I was able to stay inside balls and go up the middle and the other way."
Keppinger had 229 of his 385 at-bats in 2012 come from either the fifth or sixth spot in the Rays' order. Part of that slotting came from the Rays not having typical hitters throughout the order, so as Keppinger pointed out, everyone was interchangeable and could jump from the two to six spot.
But he doesn't feel any restrictions occupying the two-spot for the White Sox, giving up parts of his game for situational baseball.
"There are certain times in games where you try to get in that situation, and I would have to say it doesn't matter where you're at in the batting order," Keppinger said. "It's just that time in the game where one run is important and you don't need more than one.
"I've been on other teams where those things are in the first inning. I don't feel that way here. They want me to hit."
Scott Merkin is a reporter for MLB.com. Read his blog, Merk's Works, and follow him on Twitter @scottmerkin. This story was not subject to the approval of Major League Baseball or its clubs.