Cooper happy to be back at work in dugout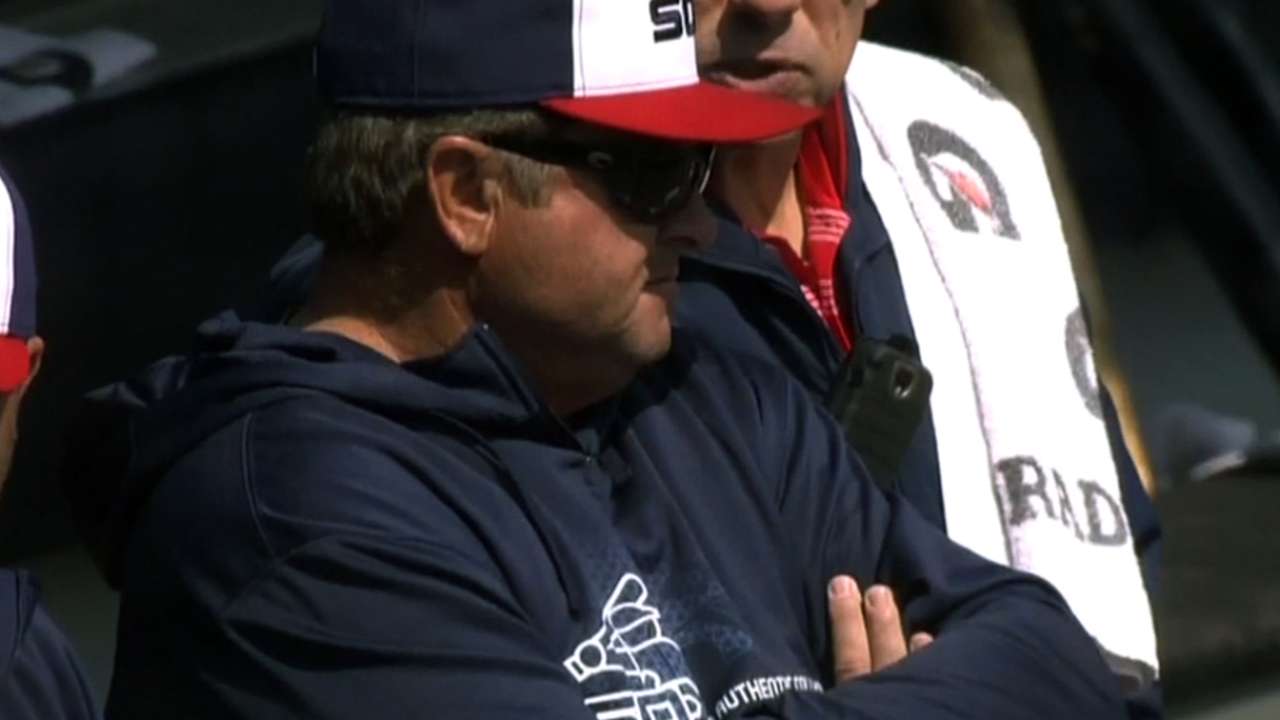 CHICAGO -- After missing the entire 10-game road trip while battling diverticulitis, White Sox pitching coach Don Cooper returned to the dugout for Saturday's homestand opener against the Twins.
Cooper originally was hospitalized in Arlington, Va., when this problem arose on the Monday night before the first game in Washington, and then returned to Chicago to complete his recovery. He mentioned Saturday morning that he thought about getting a flight to Toronto this past Monday after seeing his doctor, but his wife, Ruby, overruled that particular idea.
"And she was probably right," said a smiling Cooper. "I just needed a couple of extra days to recover. I almost feel guilty talking about my problem. There are just so many other people who deal with much, much more than I dealt with.
"What it amounted to for me was a bad, bad, bad stomach ache for five days. It's not about if something is going to happen to you in your life. It's about when and you just deal with it and hopefully move on. I'm glad it wasn't more than what it was."
Although he didn't see any of the Washington games, Cooper was able to watch the remaining seven games on the road trip. He stayed in constant contact with bullpen coach Bobby Thigpen, who served as pitching coach in Cooper's absence, and texted some of the pitchers and catchers Tyler Flowers and Hector Gimenez during and after games.
He praised the last two starts from Jose Quintana, Jake Peavy's start last Sunday in Cleveland and the efforts by Dylan Axelrod and Chris Sale in Toronto, as well as his stellar bullpen. Cooper also had kind words for those who stood by him and reached out to him during the illness.
"It makes me realize how many nice friends I got that were calling, texting, e-mailing," Cooper said. "It makes me realize how much I miss being the coach, and I've come to the conclusion I want to be a Major League pitching coach as long as I'm physically able to do it. It also reminds me that my wife is special too because she came up and helped take care of me.
"My life is always better when she's around. Listen, it was a little bump in the road and I'm anxious to be back. Let's go at it."
Judging by the hugs and pats on the back he received Saturday in the clubhouse and on the field, the White Sox are happy to have Cooper back at work.
"We try to staff ourselves so that nobody's irreplaceable," White Sox general manager Rick Hahn said. "That being said, Don's obviously very special. He's accomplished a lot and has a close relationship with his guys. It's good to be back at full force, at least from a coaching standpoint."
Scott Merkin is a reporter for MLB.com. Read his blog, Merk's Works, and follow him on Twitter @scottmerkin. This story was not subject to the approval of Major League Baseball or its clubs.