Lindstrom, Santiago strong setup men in 'pen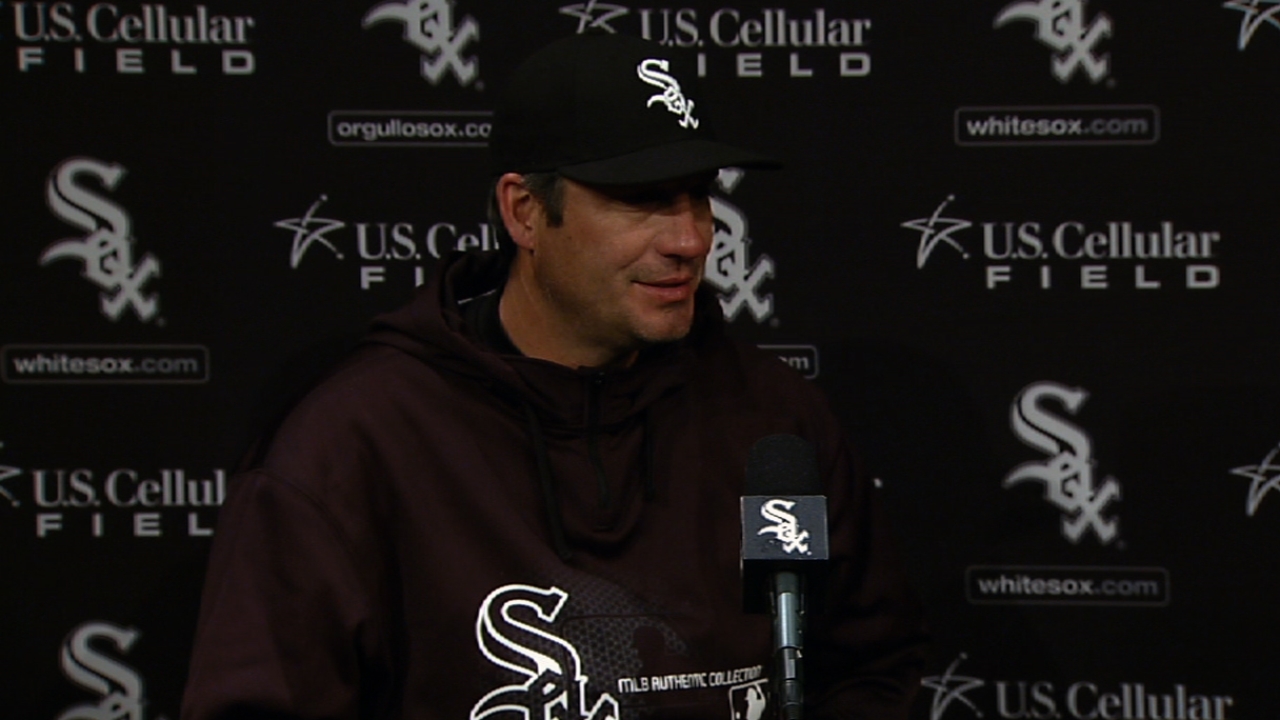 TORONTO -- The White Sox have struggled to begin the season, as the club entered play Tuesday sitting at the bottom of the American League Central standings with a 5-8 record.
But it hasn't been all doom and gloom for last season's Central Division runner-ups.
Chicago's bullpen has been dynamite, something it proved in a 4-3 loss during Monday's series opener against the Blue Jays, and again in Tuesday's 4-3 win over the Jays.
Starter Gavin Floyd managed only 4 1/3 innings on Monday, but three Chicago relievers pitched 3 2/3 scoreless innings of one-hit ball. Two of the relievers who helped keep the Blue Jays' offense in check after Floyd left were offseason acquisition Matt Lindstrom and lefty Hector Santiago.
The pair has combined to throw 17 1/3 scoreless innings over 12 appearances this season, while striking out 13. Santiago replaced Tuesday's starter Dylan Axelrod and tossed 1 2/3 hitless innings with a strikeout. Lindstrom retired the only batter he faced and earned his first win with the White Sox.
The White Sox weren't very active in the offseason but so far Lindstrom has proven to be a great addition.
"[Lindstrom] can do a lot of different things. He has been great so far to kind of mix in there," manager Robin Ventura said.
As for Santiago, Ventura marveled over his ability to fill a number of roles. Santiago has experience starting and closing, and can fill a situational role by his ability to get out left-handers. Last season, Santiago has held lefties to a stingy .211 batting average, .239 slugging percentage, and surrendered only one extra-base hit.
Santiago has a large repertoire but will mainly attack the opposition with a low-90s fastball.
"He has good stuff, he throws strikes," Ventura said. "He gets a lot of swing and misses for a guy who throws a fastball.
"He's kind of like a Swiss army knife -- he's a little bit of everything. The biggest thing is he's effective and gets the job done. How we use him from this point forward, he's probably forcing your hand to use him a little more."
The two of them have helped Chicago's bullpen enter Tuesday second in the AL in opponents' batting average (.182) and ERA (1.79). It's a good thing the White Sox bullpen has been strong because 13 of the club's 14 games have been decided by three runs or less.
Chris Toman is a contributor to MLB.com. This story was not subject to the approval of Major League Baseball or its clubs.