Ventura, Flowers respect Buehrle's accomplishments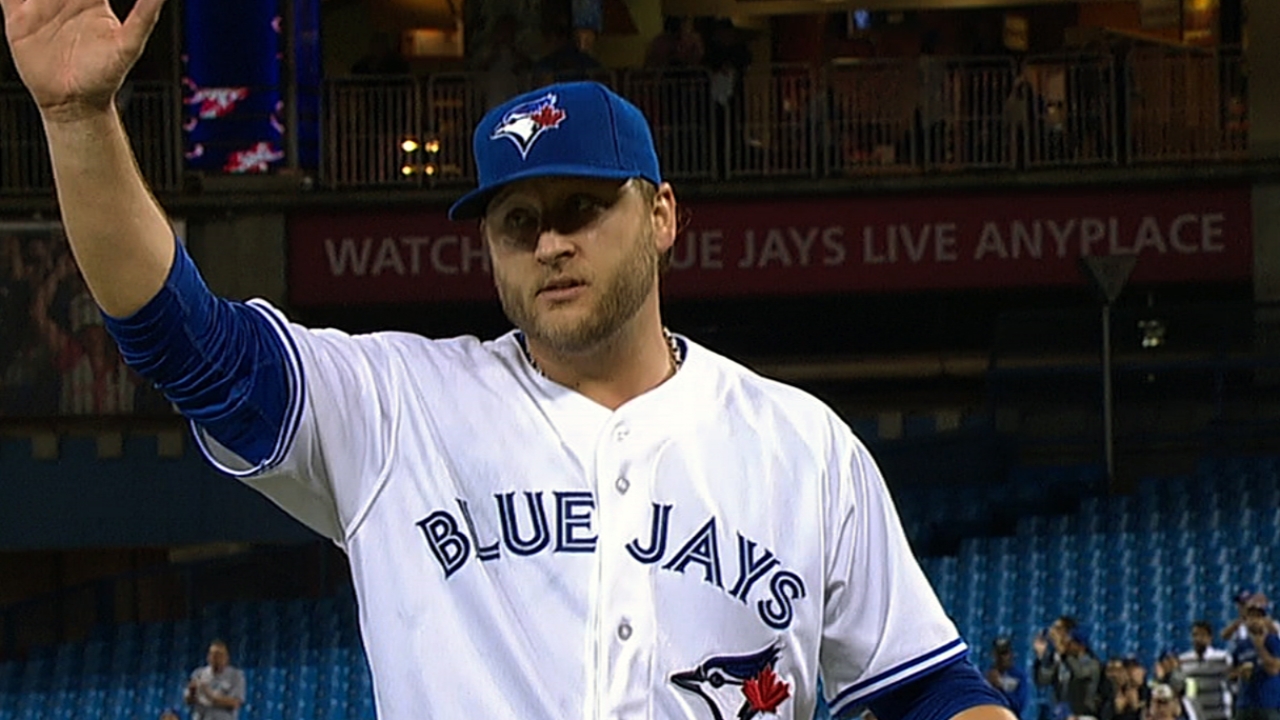 TORONTO -- Left-hander Mark Buehrle, who enjoyed the first 12 years of his career with the White Sox before spending the 2012 season with the Marlins, faced Chicago for the first time in his career on Monday.
The 34-year-old broke into the Majors with the White Sox in 2001 and ranks fourth in club history with 365 starts and 1,346 strikeouts, while placing sixth with 161 wins.
Buehrle, a four-time All-Star with the White Sox, threw a no-hitter in 2007 and perfect game in 2009.
Manager Robin Ventura wasn't the skipper during Buehrle's tenure, but he has the ultimate respect for what Buehrle accomplished and his standing in White Sox history.
"I understand his place in our organization, the history of our uniform. It will probably be harder for Paul [Konerko] than anybody else," Ventura said before Buehrle tossed 6 1/3 innings to pick up his first victory during Toronto's 4-3 victory.
"He's going to look weird in another uniform."
Catcher Tyler Flowers, who has been a member of the White Sox since 2009, agreed with Ventura and added how much a text message he received from Buehrle in the offseason meant to him.
Flowers won the starting catcher's job once A.J. Pierzynski left for Texas in the offseason and Buehrle reached out to congratulate him. The 27-year-old Flowers said it was an honor to receive a message from a player as respected as Buehrle.
"That's just the kind of guy he is, he's a caring guy," Flowers said. "I thought it was pretty neat that a veteran and an established guy like himself would actually take the time and send a message to me.
"He has always been up there in my book, always a nice guy. He looked out for the younger guys, so to speak. He's a quality guy."
Despite having a fastball that sits below league-average speed, Buehrle has enjoyed a very successful career. Buehrle has thrown at least 200 innings and recorded double-digit wins in every season since 2001.
Flowers said his ability to throw offspeed pitches in any count is one of the things that has allowed Buehrle to flourish.
"He's extremely competitive and fearless when he's on the mound and I think that makes him a couple notches better than what his stuff really is," Flowers said.
"He doesn't have fear to throw any pitch at any time."
Chris Toman is a contributor to MLB.com. This story was not subject to the approval of Major League Baseball or its clubs.