Danks progressing, attends season opener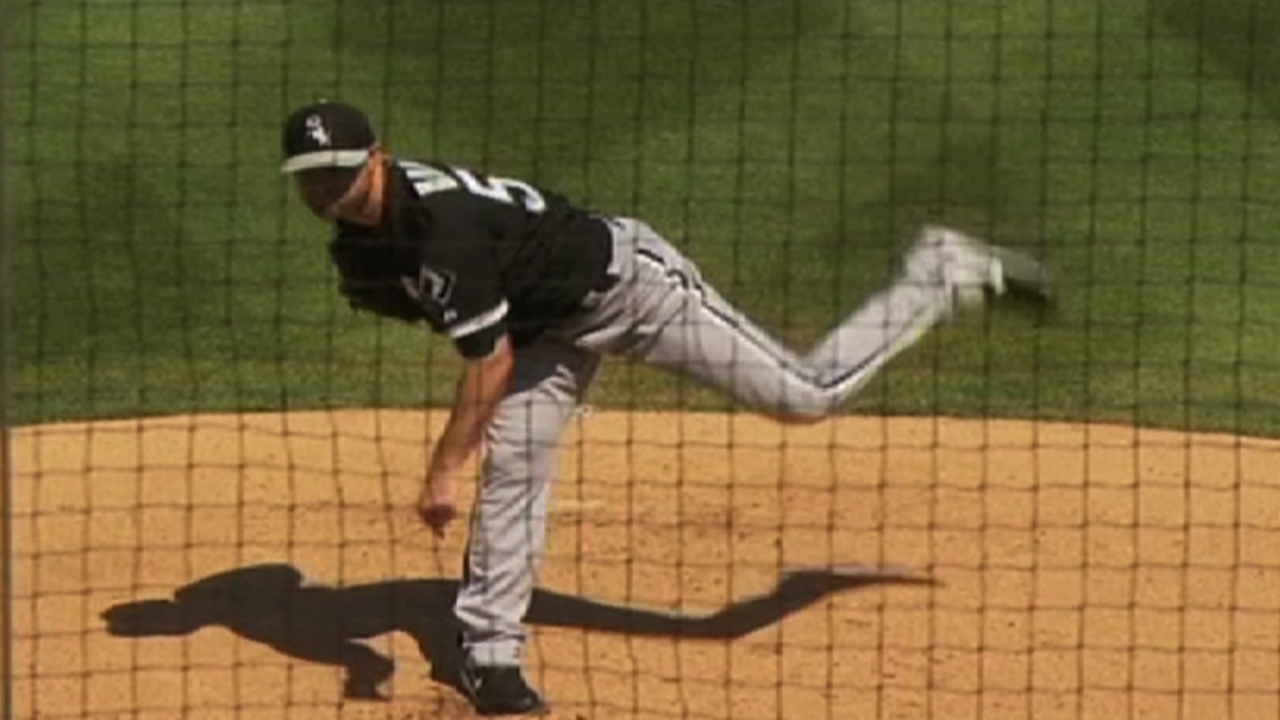 CHICAGO -- After throwing approximately 80 pitches during a Minor League game Friday against the Rangers' Triple-A team in Arizona, John Danks made the trip to Chicago to be part of the team for Opening Day festivities.
But the southpaw returns to Arizona on Tuesday, with his next trip to the mound scheduled for Thursday in extended camp. Danks felt good again during his last start, although obviously not where he needs to be.
"It's about what it was the time before. Some good and some bad," Danks said. "When I was able to make a pitch, I had some good results and vice versa. I'm working on trying to work back on arm strength, velocity, being able to make the pitches do what I want. I still have a little ways to go."
The White Sox hope that "little ways" means an early or mid-May return. But the truth of the matter is that Danks' shoulder will dictate when he works his way back to the Majors from Aug. 6 arthroscopic surgery and there's a chance that path could take two months or more.
"We are not going to put a timetable on it at this point," general manager Rick Hahn said of Danks' return.
"In talking to the doctors, they warned me to be patient," Danks said. "I don't know what that means. It's not in my blood. Just going to keep throwing every five days and hopefully be ready sooner rather than later. I'm excited to be here. It's a good change of pace for me, being in Arizona, coming here to see this and just rekindles that fire a little bit."
Both Hahn and Danks stressed that the pitcher is not hurt and with the club's long-term commitment made to Danks via a five-year, $65 million deal prior to the 2012 season, it would be foolish to have him pitching if he was. Hahn also stressed again the positive side of Danks' progress.
"He's traveled a tremendous amount of distance in a short period of time since having that surgery last August," Hahn said. "The mere fact that it was possible that he could have broken with us is a tribute to how hard he worked and has been diligent with his rehab."
"I was thinking a year ago I was getting ready to throw in this game. So a lot's happened this past year," Danks said. "This rehab process, in the grand scheme of things, I'm not that far out of surgery, but it feels like I've been out for years now. I'm going to do everything I can to get back as soon as possible but in the grand scheme of things, we're at the mercy of my shoulder. So when that's ready, I'm ready."
Scott Merkin is a reporter for MLB.com. Read his blog, Merk's Works, and follow him on Twitter @scottmerkin. This story was not subject to the approval of Major League Baseball or its clubs.