Danks gets work in against Minor Leaguers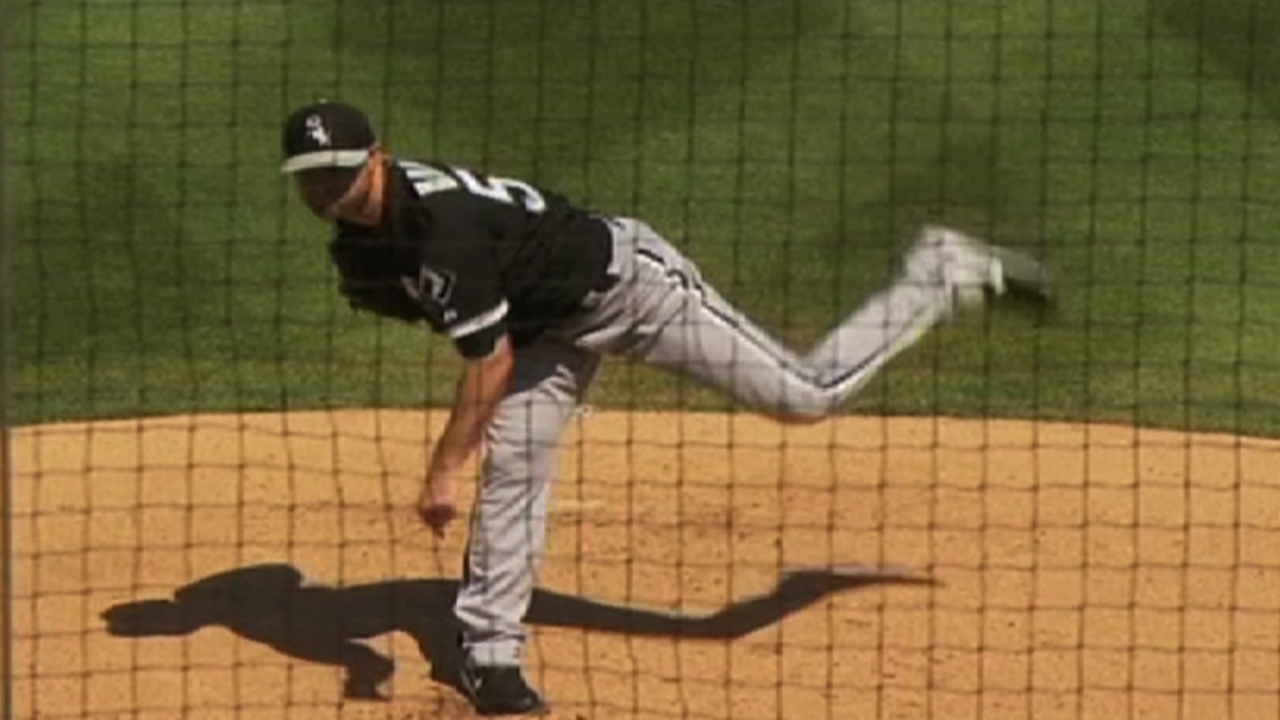 GLENDALE, Ariz. -- As John Danks worked through 66 pitches Sunday morning during a Minor League intrasquad contest at Camelback Ranch, he wasn't worried about velocity readings.
To be honest, Danks wasn't all that concerned with results either, which was a good thing since Cody Puckett, Kevan Smith, Trayce Thompson and Brady Shoemaker all took him deep during the four different times he took the mound. Two of those blasts came after pitching coach Don Cooper extended the inning past three outs to get Danks more pitches.
His main focus simply was getting in work and pushing toward a Major League return. Danks thought he would break camp with the White Sox after successful rehab work following Aug. 6 arthroscopic surgery on his left shoulder, but as manager Robin Ventura said Saturday, he simply isn't ready.
"We're at the mercy of my shoulder. We're doing everything we know to do and hopefully, sooner than later, we'll be ready," said Danks, after Shoemaker's opposite-field shot ended his day's work. "I spent the whole offseason with April 1 in mind, but it's different for everybody. It was a very general date getting to April 1, a very general time frame. All I can do is throw and it will come."
"Again, he feels OK, but he knows it's not there, it's not 100 percent," said Ventura, who watched Danks in action. "Nothing hurts, but he just doesn't have that strength back yet to get the velocity and location to go with it."
Danks characterized Sunday's effort as positive, getting back out on the mound after the Reds knocked him around on Tuesday in Goodyear. There wasn't anything specific Danks was trying to do, aside from pounding the zone with his four pitches and making the ball do what he wanted.
The cutter wasn't great, according to Danks, and while he didn't look at the radar gun, he felt about the same as he did against the Reds when he topped out in the high 80s. Danks has never been a high-velocity pitcher, but he knows that he needs more to make the gap a little bigger between the fastball and changeup.
"If I can get back to 91, 92, that's what I've always been. I'm not expecting much more than that, and I definitely have a ways to go," said Danks, who figures to pitch Friday in Arizona. "It will come, I don't have any doubts.
"I just have to listen to my body at this point. I have to see how it's progressing and when I go throw, see the progress I've made and see how much closer I need to get where I need to be."
Scott Merkin is a reporter for MLB.com. Read his blog, Merk's Works, and follow him on Twitter @scottmerkin. This story was not subject to the approval of Major League Baseball or its clubs.