White Sox think Crain can be ready for opener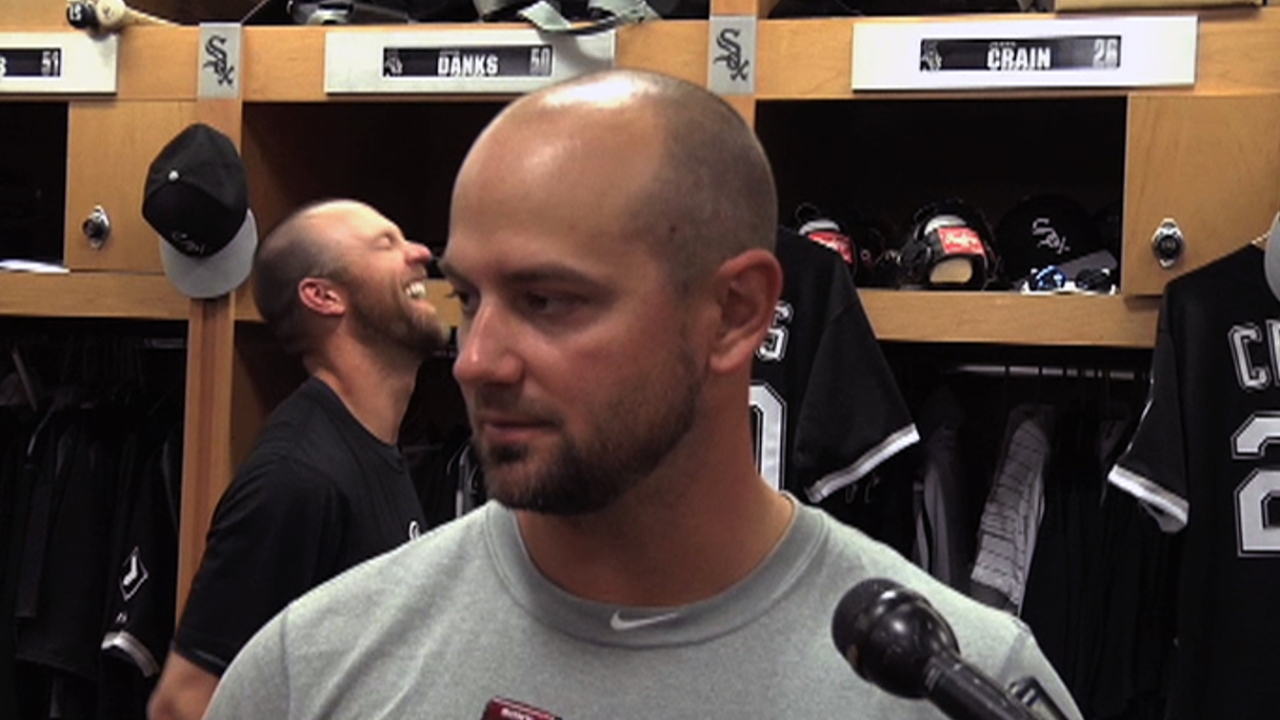 PHOENIX, Ariz. -- The Opening Day door has not exactly been closed on veteran White Sox reliever Jesse Crain.
He is scheduled to throw one inning during a Minor League game on Saturday afternoon at Camelback Ranch to test his sore right adductor. Despite that injury limiting Crain to one Cactus League game on Feb. 25 against the Giants, he doesn't need a certain amount of innings in order to be active at the 2013 outset.
"If Jesse is healthy, we know what he does," White Sox pitching coach Don Cooper said. "We want him to feel better, and we want to feel better by seeing him go out there a couple times and throw the ball like he can. When Jesse is healthy, we know what we got."
"That's the biggest thing, he throws and feels OK," added White Sox manage Robin Ventura. "I don't think there's any amount of pitches. It's just more when he throws and declares himself clear and feeling normal. Then you feel good about it."
Crain's only issue with the injury has centered on being able to let pitches go full force off the mound. Of course, going full force becomes the only way to post a 2.44 ERA over 51 games and a 2.62 ERA over 67 games, as Crain did in 2011 and '12, respectively, for the White Sox.
Starting the year with Crain on the disabled list, and with Dylan Axelrod in the rotation while John Danks comes back from shoulder surgery, leaves one more bullpen spot open. Cooper went down the list of candidates before Friday's game against Oakland.
David Purcey, who would give the White Sox a fourth left-handed reliever, has lowered his angle a little bit during Spring Training, and the White Sox like his arm. Jeff Gray is throwing the ball well, and both Brian Omogrosso and Ramon Troncoso have had good springs.
This final spot could come down to Omogrosso and Troncoso, with the White Sox having seen Omogrosso in action for 17 games last season. They also would risk losing Troncoso through waivers if he started with the team and was designated for assignment when Crain returned, whereas Omogrosso is part of the 40-man roster and has options remaining.
"We haven't talked about it because we're still thinking Jesse is going to be ready," Cooper said. "We'll deal with that if and when we have to."
"Long, middle, short, I'll do anything they need me to do," Omogrosso said. "Getting to the big leagues, you do whatever they ask you to do and do it with a smile on your face. But Jesse is a battler so you never know what's going to happen. He might wake up tomorrow morning and feel great."
Scott Merkin is a reporter for MLB.com. Read his blog, Merk's Works, and follow him on Twitter @scottmerkin. This story was not subject to the approval of Major League Baseball or its clubs.