Santiago proud of Puerto Rico's run in Classic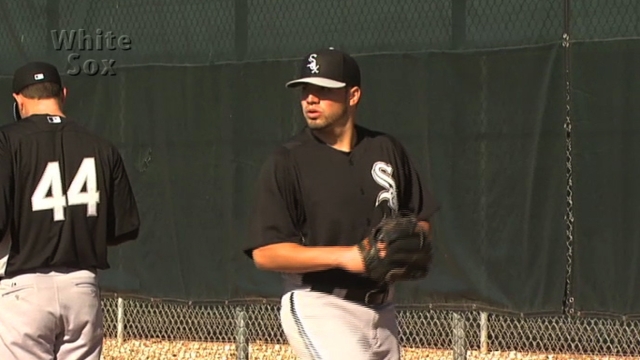 GLENDALE, Ariz. -- Hector Santiago was stationed in front of the television, along with his fiancée, when the 2013 World Baseball Classic championship between the Dominican Republic and Puerto Rico began Tuesday night.
If Santiago had made a different decision a few months ago, he could have been pitching for Puerto Rico in this deciding battle. Instead, the 25-year-old opted to remain with the White Sox.
Santiago has no regrets over the decision, even with the surprise push to the championship by Puerto Rico.
"It's your goal in baseball to play in the big leagues. That's always your No. 1 priority," Santiago said. "If I had to do it again, I would still make the same choice knowing I had the chance to make the team and probably playing with Team Puerto Rico had a chance to mess this opportunity up over here."
There might have been some sort of small doubt in Santiago's mind about breaking camp with the White Sox, but the truth is that the versatile southpaw was and is a veritable roster lock. The more specific opportunity afforded to Santiago stood as the fifth spot within the White Sox rotation.
John Danks, coming back from Aug. 6 arthroscopic shoulder surgery, is healthy but not getting the desired results either in the velocity area or command. Those issues have Danks beginning the season on the disabled list, giving him a chance to further build up arm strength.
Santiago and Dylan Axelrod remain the two replacement options, but Axelrod looks to be the favorite as the fifth starter. Even if Santiago knew these results ahead of time, he wouldn't have changed his decision.
Not playing for Puerto Rico doesn't lessen the pride Santiago has for the team or his appreciation for what the team accomplished.
"I know every single person on that team, so you really are just watching your friends," Santiago said. "I was happy for them. I talked to [Puerto Rico manager] Edwin [Rodriguez] and told him congratulations. It was great. He was like, 'We wish you were here, but I respect you for the decision you made. That's your career and what it's going to be in the long run.'
"Definitely it would have been nice to be there. Hopefully, I break camp with the team and in four years get a chance to play with Team Puerto Rico at that time."
Scott Merkin is a reporter for MLB.com. Read his blog, Merk's Works, and follow him on Twitter @scottmerkin. This story was not subject to the approval of Major League Baseball or its clubs.