Dunn plays left, throws out runner at plate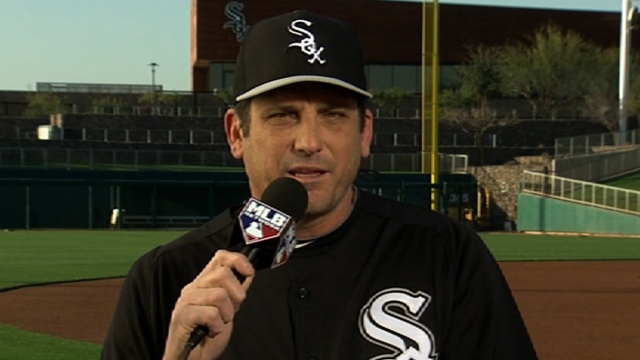 GLENDALE, Ariz. -- Luckily for Adam Dunn, there were no fly balls hit his way during his 2013 Cactus League debut in left field Wednesday afternoon at Camelback Ranch.
It wasn't that Dunn felt unsure about a position in which he has played 1,016 games over the course of his career. It's just that his glove wasn't ready.
"I was definitely afraid of getting a fly ball today because it's not where it needs to be by any means," said a smiling Dunn of his outfield glove. "It felt normal. I hadn't taken any fly balls out there all spring. I did it today during batting practice and everything felt fine."
Dunn probably won't play too many games in left field during the course of the season, aside from National League-hosted Interleague contests. He made five starts in left last season.
But if called upon, Dunn has the ability to handle the responsibilities. With two outs in the fourth inning, Dunn threw out catcher Rod Barajas at the plate as he tried to score from second on Cliff Pennington's soft single to left.
"Yeah, you won't have an easier one," Dunn said. "No offense to Rod, he's not Michael Johnson or anything. It was kind of a little perfect storm. I'm just glad I didn't airmail it.
"It just gives everybody more options. If I don't go out there and make a complete you know what of myself, it gives [manager] Robin [Ventura] a few more options, especially in National League cities."
Scott Merkin is a reporter for MLB.com. Read his blog, Merk's Works, and follow him on Twitter @scottmerkin. This story was not subject to the approval of Major League Baseball or its clubs.