Despite ugly numbers, Danks feels fine physically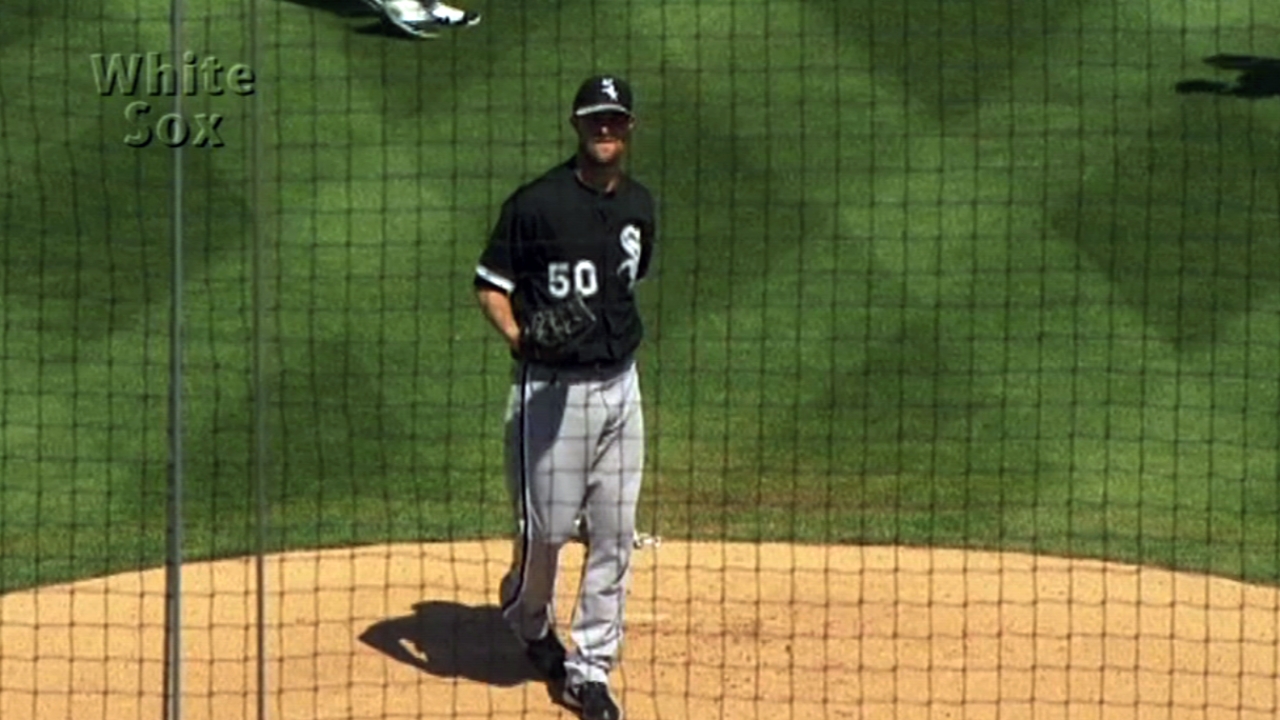 GOODYEAR, Ariz. -- John Danks' outing went from bad to worse to downright dreadful on Tuesday afternoon, leaving little reason to believe the White Sox lefty will be in good enough form to crack the club's Opening Day roster.
Coming off shoulder surgery last August, Danks has allowed opposing batters to hit at a .443 clip this spring following his start against Cincinnati in which he gave up 10 runs (all earned) on 11 hits in 3 1/3 innings.
"When I'd make a good pitch, they got hit, and certainly when I'd make a bad pitch they got hit," said Danks, whose Cactus League ERA sits at 16.36 after four starts. "It's one of those you're going to try and forget. It's been a while -- if ever -- since I've given up 10 runs in four innings. That's pretty hard to swallow."
The left-hander's day mercifully came to an end after he surrendered back-to-back homers in the bottom of the fourth. He surrendered three runs in the first and two more in the second. In a miserable fourth, he retired Reds pitcher Homer Bailey before giving up two singles, a walk and homers to Chris Heisey and Jay Bruce.
The only good news from the day was that Danks felt completely fine health-wise.
"I feel like physically I'm making strides," Danks said. "Obviously, the results haven't been there. On the day-to-day, physically I'm feeling better, and I'm getting there. I knew it was going to be a process. It's tough sometimes."
In terms of making the Opening Day roster, Danks acknowledged he's running out of time. The velocity isn't there yet, and neither is the length -- he threw 82 pitches and couldn't get out of the fourth inning.
From here on out, Danks says his mindset has to be simply getting ready rather than getting ready for a specific date.
"I don't have to get to where I can throw 120 pitches, but I do need to get to where I can get us through six innings," Danks said. "I can't be a guy out there that sets a burden on the bullpen every five days."
Manager Robin Ventura wouldn't rule Danks out of the running for a roster spot directly out of camp. Although the season begins April 1, a scheduling quirk prevents the White Sox from needing a fifth starter until April 13.
"He does [have enough time]," Ventura said. "It's one of those where you'll see [how Danks feels] tomorrow and then you go from there. The window is closing though. It is getting pretty tight."
AJ Cassavell is a reporter for MLB.com Follow him on Twitter @ajcassavell. This story was not subject to the approval of Major League Baseball or its clubs.