White Sox optimistic, but won't rush Danks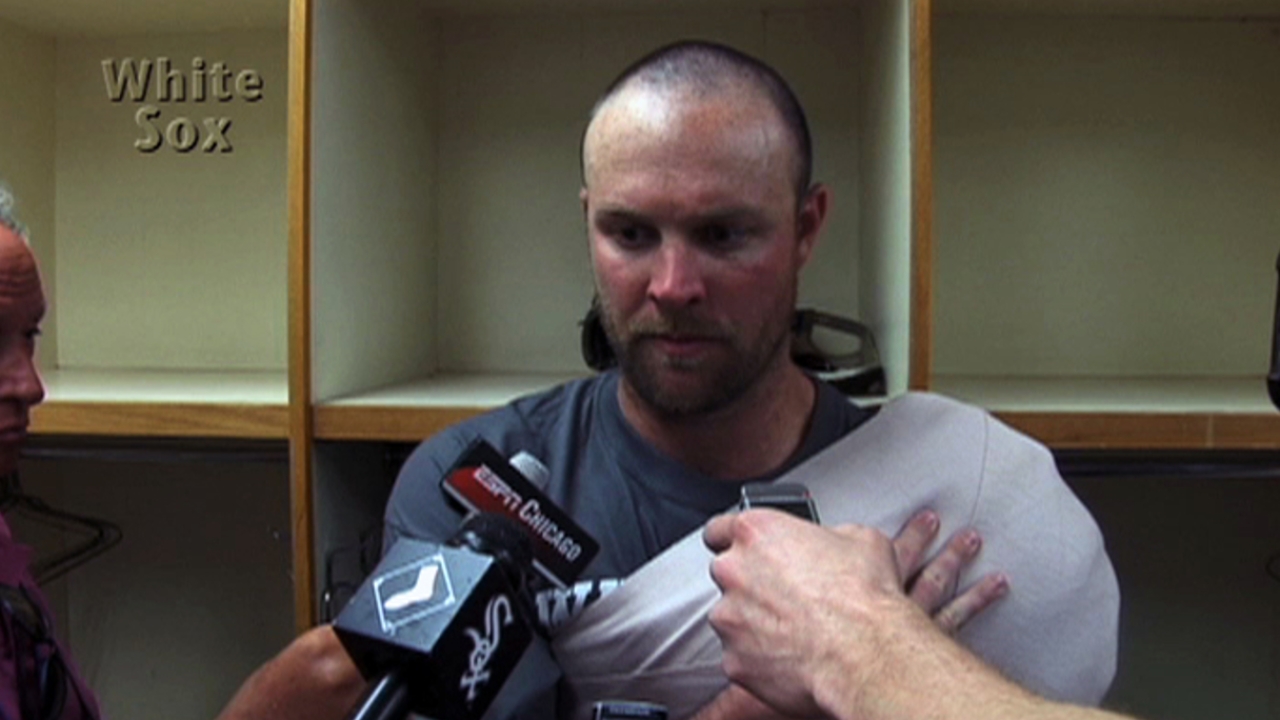 GLENDALE, Ariz. -- In the matter of John Danks breaking camp as part of the White Sox starting rotation, pitching coach Don Cooper remains optimistic but realistic.
"John is aware [that] if he's ready, he's going to be with us. If he's not, we'll give him more time," said Cooper of Danks, after the southpaw threw 61 pitches over 3 1/3 innings Thursday in Tempe during his third Cactus League start since arthroscopic surgery on his left shoulder last Aug. 6. "It's not something we are going to rush or force.
"We can't say, 'Hey, we need you to throw harder.' We have no control over that. All we have control over is going out there and having our sideline [sessions] and going out in the game. Heck, he threw [61] pitches yesterday, so that's a plus in itself. He's climbing, making baby steps forward.
"Now, it's going to be, 'Do we have enough time to get it all together for him to make his first start?'" Cooper said. "That's what we are kind of watching. Nobody knows the answer to that. But there are positives there, for sure."
Cooper mentioned that Danks' velocity topped out at 89 mph against the Angels, while adding that he expected Danks to have ups and downs during this preparatory phase. Danks was good in his first outing against the Giants, not so strong against the Diamondbacks last Saturday, and then better facing a first-rate Angels lineup.
The fact that Danks is already back pitching stands as the most significant positive for Cooper. Catcher Tyler Flowers added a few more complimentary notes where Danks was concerned.
"This is the third time I caught him, and there is definitely progression there," Flowers said. "The first time, his cutter wouldn't get any action. The changeup, he was having a hard time getting them down and getting that downward action on it like he used to have. And I've seen that progress over time.
"Yesterday, his cutter was pretty good, as far as the action. His changeup, for the most part, was pretty good except for a couple he left up. The big step now is trying to command those pitches and locate them a little more effectively. He has the action back. That seems to be the first step. Now it's kind of fine-tuning. Stuff-wise, he's pretty darn close to what he was."
An upbeat attitude concerning Danks still has come with a White Sox Plan B in case he's not quite ready, as both Hector Santiago and Dylan Axelrod are getting their work as potential rotation replacements. The White Sox could bring back their Opening Day starter on regular rest on April 6 because of an April 2 off-day, but they would need a fifth starter on April 7 at home against Seattle.
That alignment hasn't really been discussed yet, according to Cooper. Other starters are building just like Danks, but in Danks' case, he might not have to build as much to be ready.
"John is a guy I'm thinking, 'Let's get him ready to pitch six innings.' I'm not thinking we got to get him up to 115 pitches here," Cooper said. "This is a post-surgery guy. So we've got two to three starts left that match up to where, yeah, if he can make all those pitches and stay out there long enough, you know what?
"Listen, he's frustrated by the results. But this is a guy that's working to come back, and after surgery. ... We've got time left, and we'll see."
Scott Merkin is a reporter for MLB.com. Read his blog, Merk's Works, and follow him on Twitter @scottmerkin This story was not subject to the approval of Major League Baseball or its clubs.