Despite results, Danks encouraged by outing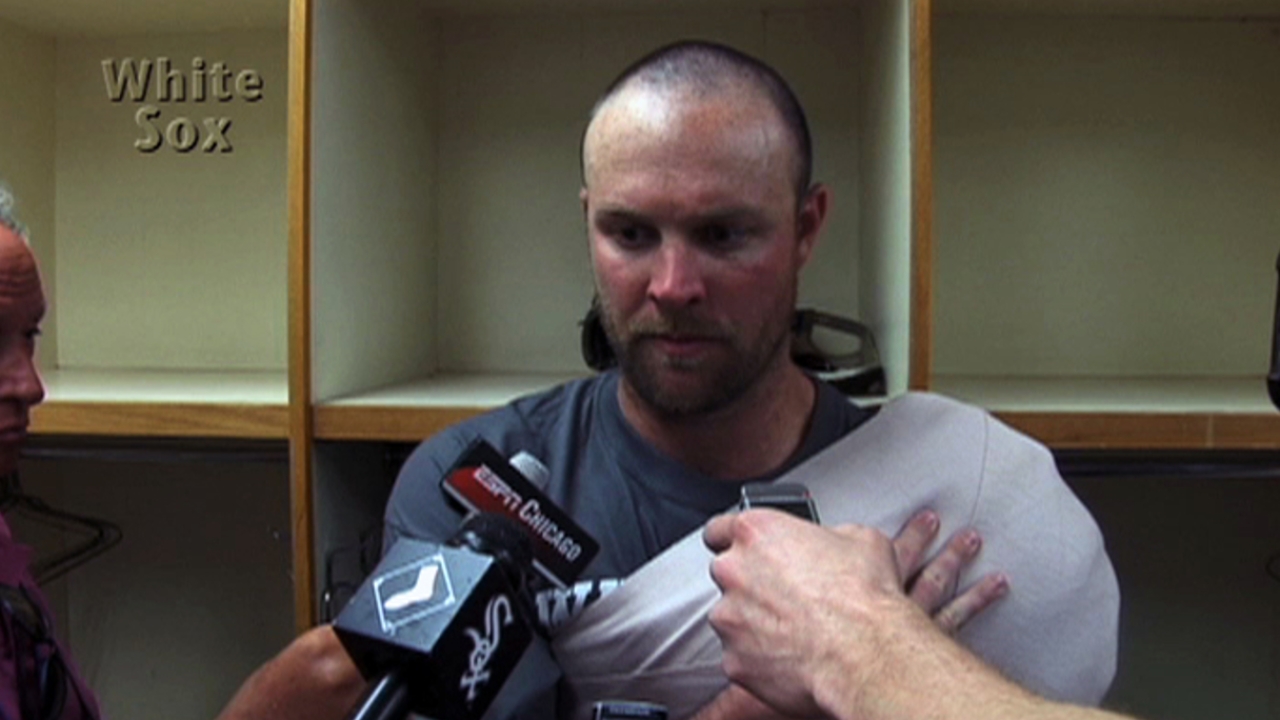 TEMPE, Ariz. -- John Danks knows there's little room for error, especially with his fastball still lacking a little velocity, as his arm strength continues to build up following Aug. 6 arthroscopic surgery.
He also understands there's no magic elixir to fix the issue. All Danks can do is continue to work and take the mound, just as he did for 3 1/3 innings and 61 pitches during Thursday's 12-4 loss to the Angels in Tempe.
"I talked to Dr. [Anthony] Romeo last week and he told me that I'm doing everything I could do," said Danks, referring to one of the doctors who performed his surgery. "There's not any special exercises or treatment I can do. I just have to go out there and throw through it.
"Certainly the focus right now is on that I can't make myself throw it any harder than what I'm trying to do. I just have to be able to throw it where I can get the best results."
Those results, at least on paper, weren't exactly perfect on Thursday. Facing a stacked Angels' lineup that featured every starter except catcher and shortstop, Danks gave up six runs on seven hits, while striking out two and walking one.
Danks threw 39 of his pitches for strikes, including a 1-1 changeup in the first inning that Mike Trout drove out for his first Cactus League home run. Through three Spring Training starts, Danks has allowed 10 earned runs on 16 hits over 7 2/3 innings. But remember, he hadn't pitched in a game since a four-inning rehab start last June 12 in Columbus.
So Thursday's effort was considered an overall success by the southpaw.
"Obviously the results don't show, but I feel like this was probably one of my better outings, just in terms of seeing some results," Danks said. "I threw some good changeups, I was able to get the cutter working toward the end. Obviously I gotta get the ball down, but that'll come.
"There's plenty of positives to take out of it. You don't like to come out of it like that, but it's another small step. I won't say a leap, but it's a small step in the right direction."
Three more starts are on tap for Danks before the start of the regular season: March 19 vs. the Reds, March 24 vs. the Royals or on the Minor League side, and then March 29 at Miller Park against the Brewers. He has no doubt he will break camp with the team, but much like the arm strength issue, Danks believes all he can do to convince the higher-ups is go out and pitch.
"It's a team sport and it's win driven," Danks said. "It doesn't matter who is out there getting you wins as long as someone is getting you wins. I fully anticipate them taking the best five guys they have at that time. Hopefully I'm one of them. I have no doubts that I will be. That's their decision to make."
"He's progressing each time out with how he's feeling and velocity and stuff like that," White Sox manager Robin Ventura said. "That right now is more important, him being healthy than thinking that far ahead."
Scott Merkin is a reporter for MLB.com. Read his blog, Merk's Works, and follow him on Twitter @scottmerkin. This story was not subject to the approval of Major League Baseball or its clubs.