Flowers blooming under extra set of eyes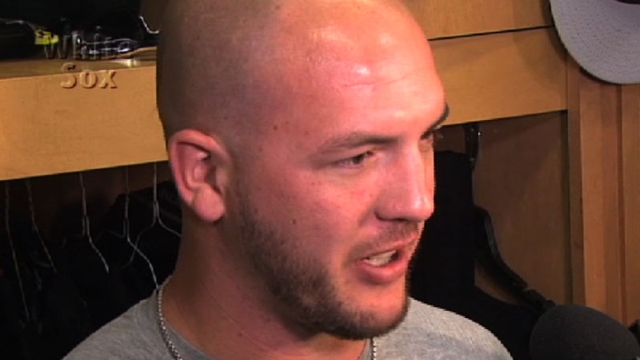 TEMPE, Ariz. -- Count Tyler Flowers as one of the many White Sox position players benefiting from the job title change of Harold Baines to the team's assistant hitting coach. Jeff Manto certainly connected with the hitters in his first season in charge of the offense, with the White Sox finishing last season fourth in the American League in runs scored.
But having an extra pair of eyes on the daily work, from an accomplished hitter such as Baines, is always a plus.
"It's going to make it a little bit easier to be consistent with what you are doing day in and day out, not having to make big changes," Flowers said. "Everything stays intact with both of those guys watching you. If they see something starting to creep in, they say something and nip it in the bud right away.
"They have the same ideas mechanically. They both like to talk about approaches. Your mindset in that at-bat, what this pitcher is going to try to do to you to get you out and what is his arsenal to get you out to make your own gameplan against him. You hear it two different ways, and it's a good thing. They might be saying the same thing but you are hearing it in a different fashion. Sometimes it clicks better one way vs. the other. It will help everyone even more."
Flowers is hitting .316 with one homer during Cactus League action after three good at-bats in Thursday's 12-4 loss to the Angels, but those numbers aren't nearly as important as the positioning of his hands in each at-bat. He's trying to keep them at a consistent spot in the swing, basically staying where they start.
"I have a tendency to drop them sometimes which causes a whole misfire in the swing," Flowers said. "When they stay there, it has been good. I have a really good chance every at-bat to hit the ball hard. When they don't, it's not so good.
"But I've got two guys on me to let me know when it's happening and it's really only happened a few times. The good thing is, I've started to feel it myself. I'm learning and hopefully I'll be able to correct it if this does come up mid at-bat. I'll be able to feel it and correct it right away and give myself a good chance."
Scott Merkin is a reporter for MLB.com. Read his blog, Merk's Works, and follow him on Twitter @scottmerkin. This story was not subject to the approval of Major League Baseball or its clubs.