McMahon, Bichette, Alvarez lead Team of the Week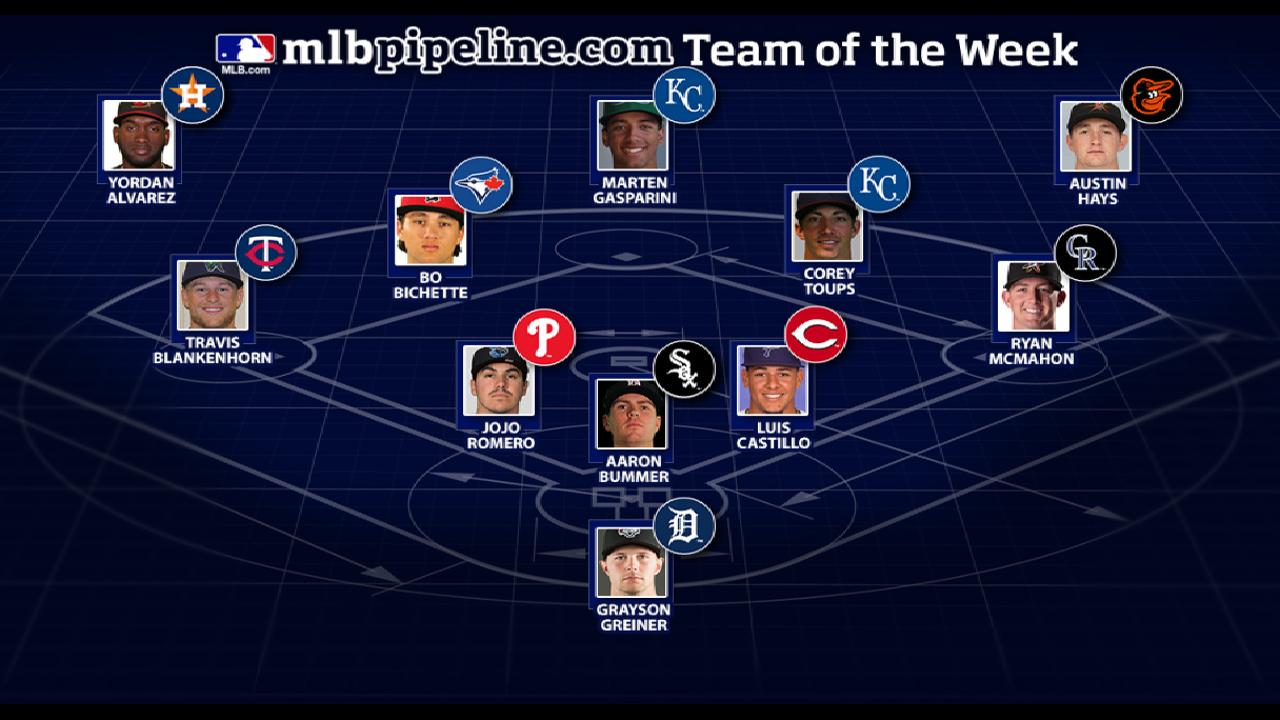 MLBPipeline.com's Prospect Team of the Week honors the best performances from the previous seven days. Any player currently on an organization Top 30 Prospects list on our Prospect Watch is eligible, including big leaguers.
The latest edition of MLBPipeline.com's Prospect Team of the Week (June 12-18) is headlined by Triple-A Albuquerque's Ryan McMahon, who led all Minor Leaguers in OPS (1.883), hits (16) and total bases (35) while also tying for the lead in home runs (five) and RBIs (14).
After a strong showing in his return to the Double-A Hartford to begin the year, McMahon has produced a .359/.414/.609 batting line with 14 extra-base hits and 19 RBIs in 16 games since being promoted to Triple-A on June 1.
Here's our complete Prospect Team of the Week:
C: Grayson Greiner, Erie SeaWolves (Double-A)
(Tigers' No. 27 prospect)
5 G, .313/.313/.937, 3 R, 1 2B, 3 HR, 7 RBIs, 0 BB, 4 K
Greiner paced all Top 30 catchers in OPS (1.250) and home runs last week, which began with him going deep in back-to-back games (and three straight games dating back to the previous Sunday). The 24-year-old backstop went deep twice in that second game, connecting on a pair of three-run shots to finish with a career-high six RBIs.
1B: Ryan McMahon, Albuquerque Isotopes (Triple-A)
(Rockies' No. 5 prospect)
6 G, .593/.586/1.296, 6 R, 4 2B, 5 HR, 14 RBIs, 1 BB, 4 K, 1 SB
McMahon's week saw him homer in three straight games for Triple-A Albuquerque, including back-to-back two-homer performances on Thursday and Friday. In the latter contest, the 22-year-old set single-game career highs with five hits and seven RBIs, all while falling a triple short of hitting for the cycle. Between both levels, the 22-year-old corner infielder has hit .359/.414/.609 with 11 homers and 25 doubles in 65 games.
2B: Corey Toups, NW Arkansas Naturals (Double-A)
(Royals' No. 23 prospect)
5 G, .429/.478/.857, 5 R, 3 2B, 2 HR, 4 RBIs, 1 BB, 6 K, 2 SB
Toups collected multiple hits in four of his five games to finish the week with a .429 average, the highest among Top 30 second basemen. He also led the way with 18 total bases, thanks in part to his five extra-base hits. After struggling in May, he's rebounded to hit .305/.364/.508 in 15 games this month.
3B: Travis Blankenhorn, Cedar Rapids Kernels (Class A)
(Twins' No. 7 prospect)
7 G, .407/.500/.852, 6 R, 1 2B, 4 3B, 1 HR, 6 RBIs, 5 BB, 4 K, 1 HBP, 1 SB
Blankenhorn had six of his 11 hits last week go for extra bases, which enabled him to finish third among Top 30 prospects in total bases (23). The 20-year-old finished his week on a high note, too, going 4-for-5 with a home run, three RBIs and two runs scored on Sunday against Clinton. He's hitting .259/.348/.457 for the season.
SS: Bo Bichette, Lansing Lugnuts (Class A)
(Blue Jays' No. 5 prospect)/(MLB No. 100)
5 G, .476/.476/.762, 3 R, 3 2B, 1 HR, 6 RBIs, 0 BB, 3 K, 2 SB
Bichette went 7-for-8 with two doubles, one home run and five RBIs last Thursday in a doubleheader for Lansing. He went on to hit safely in four of his five games, giving him hits in 49 of 56 -- as well as 29 multihit performances -- games this season. Meanwhile, the 19-year-old shortstop continues to pace the Midwest League in all three triple-slash categories at .396/.463/.639.
OF: Marten Gasparini, Lexington Legends (Class A)
(Royals' No. 18 prospect)
7 G, .370/.400/.778, 4 R, 4 2B, 2 3B, 1 HR, 14 RBIs, 2 BB, 7 K
Gasparini's 14 RBIs last week tied him with McMahon for the most among Top 30 prospects. He plated at least one run in six of his seven games for Lexington, while seven of his 10 hits went for extra bases. The 20-year-old is in the midst of his best month of the season, with a .281/.300/.579 batting line through 16 June games.
OF: Yordan Alvarez, Quad Cities River Bandits (Class A)
(Astros' No. 14 prospect)
7 G, .381/.533/.952, 6 R, 4 HR, 11 RBIs, 7 BB, 3 IBB, 6 K, 1 HBP
Alvarez homered in four of his seven games for Quad Cities last week to push his season total to nine home runs in just 32 games. Despite getting a late start to his season, the 19-year-old first baseman/outfielder has quickly proved to be one of the more advanced hitters in the Midwest League, hitting .360/.468/.658 with nine homers and 33 RBIs in 32 games.
OF: Austin Hays, Frederick Keys (Class A Advanced)
(Orioles' No. 7 prospect)
7 G, .387/.387/.871, 7 R, 3 2B, 4 HR, 8 RBIs, 0 BB, 6 K
Selected to his second PTOW this season, Hays put a bow on his week with a game to remember on Sunday, as the 21-year-old outfielder homered twice en route to setting single-game bests with five hits (5-for-5), six RBIs, four runs scored and 13 total bases. The 21-year-old outfielder finished second in total bases (27) among all Top 30 prospects, giving him a Carolina League-leading 155 total bases for the season. He also ranks second in the Carolina League in average (.328), OPS (.956) and home runs (16).
LHP: JoJo Romero, Lakewood Blueclaws (Class A)
(Phillies' No. 25 prospect)
1-0, 0.00 ERA, 1 GS, 8 IP, 4 H, 0 R, 0 ER, 0 BB, 10 K, 0.50 WHIP
Romero earns PTOW honors for a second time this season after a lights-out start on Friday that saw him set a career high with 10 strikeouts while allowing only four baserunners in eight scoreless innings for Lakewood. The 20-year-old lefty lowered his ERA to 2.01 with the performance, and he's registered 76 strikeouts while holding hitters to a .217 average in 71 2/3 innings (12 starts).
RHP: Luis Castillo, Pensacola Blue Wahoos (Double-A)
(Reds' No. 5 prospect)
1-1, 0.63 ERA, 2 GS, 14.1 IP, 5 H, 1 R, 1 ER, 2 BB, 18 K, 0.49 WHIP
Castillo's week began with a dominant performance, as he set a career high with 13 strikeouts while allowing just two hits over eight scoreless frames. Though he would ultimately take the loss in his Sunday outing, the 24-year-old righty did carry a no-hit bid into the seventh inning (of a seven-inning game) before yielding one earned run on three hits. He's missing bats this season at a career-best rate, with 81 strikeouts in 80 1/3 innings (9.1 K/9).
RP: Aaron Bummer, Birmingham Barons (Double-A)
(White Sox No. 26 prospect)
1-0, 1 SV, 0.00 ERA, 2 G, 5 2/3 IP, 1 H, 0 R, 0 ER, 0 BB, 10 K, 0.18 WHIP
Bummer, a 23-year-old left-hander, was nearly unhittable in his two appearances for Birmingham, as he recorded 10 of his 17 outs via the strikeout while allowing just one hit. He fanned six over 2 2/3 innings to notch a save in his first appearance, and then recorded a win the latter behind three perfect frames.
Mike Rosenbaum is a reporter for MLB.com. Follow him on Twitter at @GoldenSombrero. This story was not subject to the approval of Major League Baseball or its clubs.