Statcast shows room to improve for Abreu
Barreled ball in 3-hit game Wednesday a good sign; first baseman up for challenge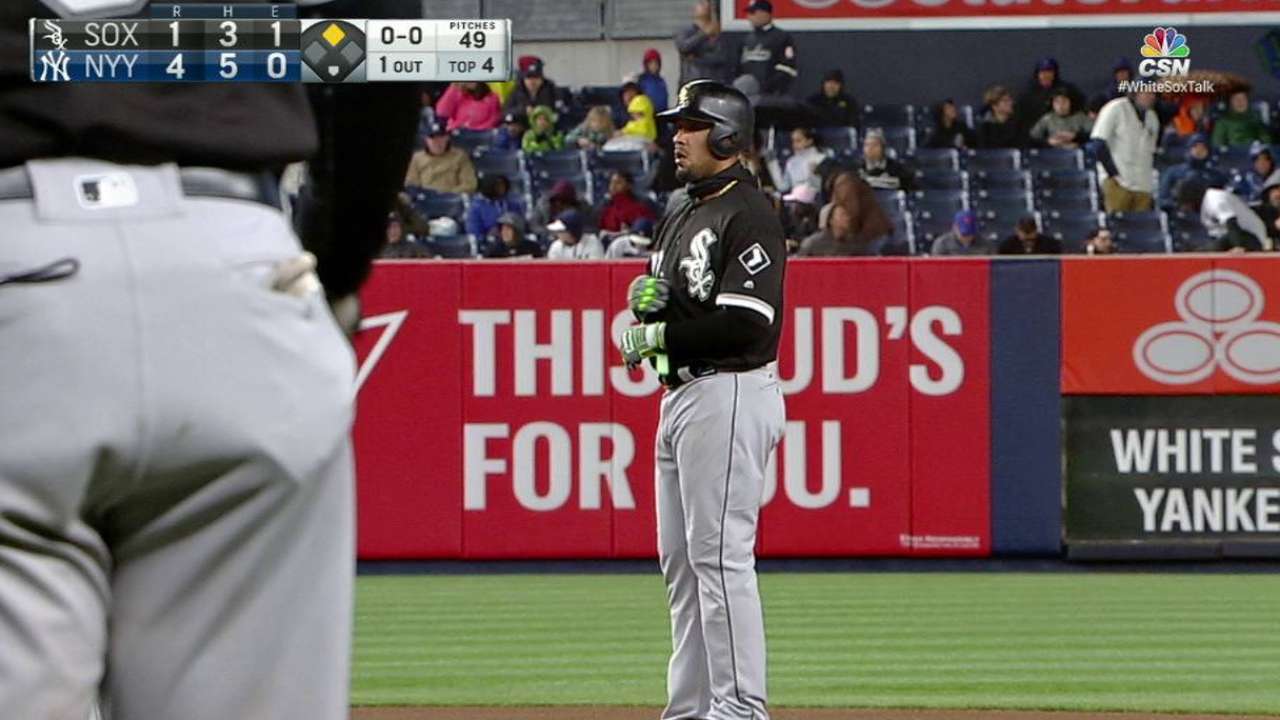 CHICAGO -- The phrases "average exit velocity" and "barrels per batted ball" don't fall among Jose Abreu's extensive everyday offensive research.
Both the White Sox first baseman and hitting coach Todd Steverson offered a look of understanding but slight bewilderment when numbers were mentioned in relation to those Statcast™ measures.
"I pay more attention to the approach," a smiling Steverson said.
Going into Friday's games, Abreu's average exit velocity showed a decline for a third straight season. It stood at 91.8 mph in 2015, 90.3 in '16 and 87.9 over a very small sample size thus far in '17.
Abreu's barrels per batted ball started at 9.3 percent in 2015, slipped to 7.9 percent in '16 and checks in at 9.8 percent this season, after a barreled ball Wednesday significantly lifted that percentage in the small sample size. His expected weighted on-base average based on his quality of contact went from .354 to .343 to .272.
In fairness to Abreu, the slugger produced three hits during Wednesday's 9-1 loss to the Yankees, including a double to left-center with an exit velocity of 109.3 mph. Abreu, batting .200 in 55 at-bats, smiled after the game when stating through interpreter Billy Russo that it was good to hear that sort of sound coming off of his bat again.
Aside from the recent jump in barrels per batted ball, the Statcast™ numbers in relation to Abreu seem to illustrate an issue with pitch selection within that approach.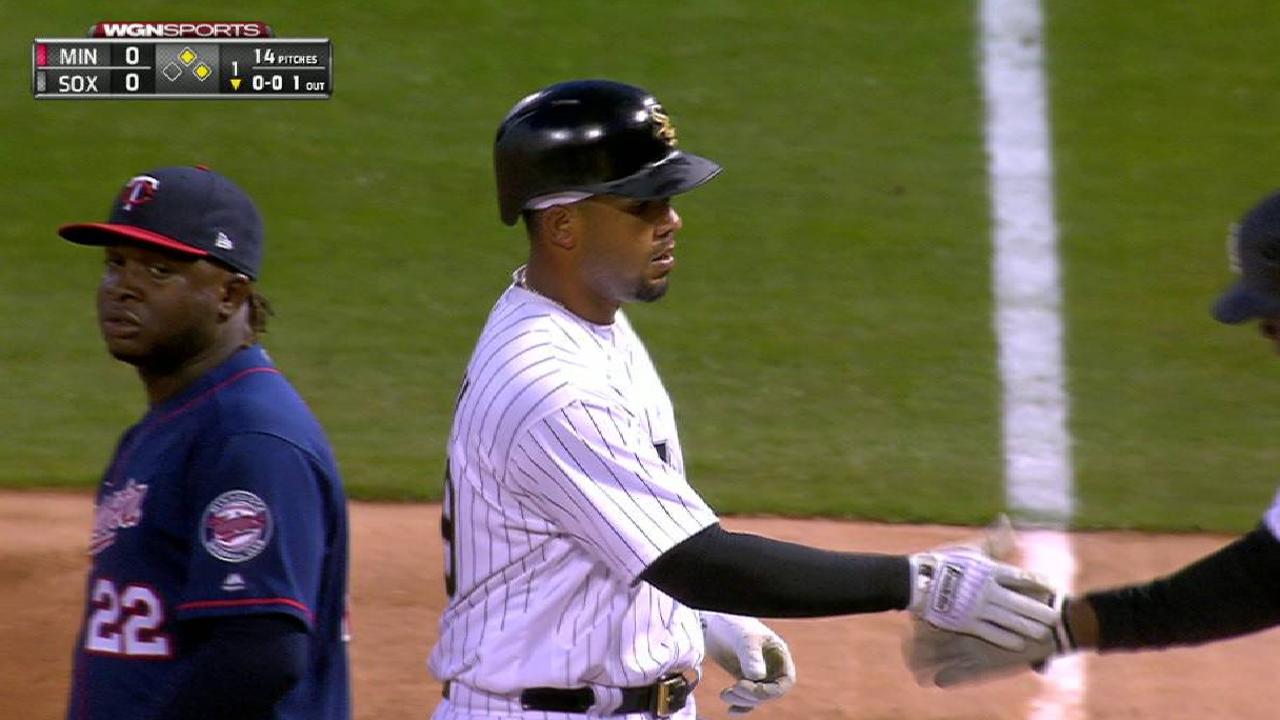 "If you go look back to probably what the barrel accuracy thing is, and look at the pitches put in play that they are evaluating, I'm going to say not very many of them were in the heart of the plate," Steverson said. "It's always going to boil down to the ability to be able to continuously put your pitch in play.
"He's having to put some balls in play that are not conducive to what his typical ball in play is. He knows it. You go through phases in this game. You are fouling off your pitch or taking your pitch or being subject to them making better pitches. You are having to deal with those balls instead of the ones you really want to put in play."
Abreu has gone through slumps at the Major League level, and he still has been able to put together three seasons with at least a .290 average, 25 home runs and 100 RBIs. People forget Abreu fell into the .260s during his rookie campaign in 2014 before bouncing back to hit .317 with 36 home runs to earn the American League Rookie of the Year Award.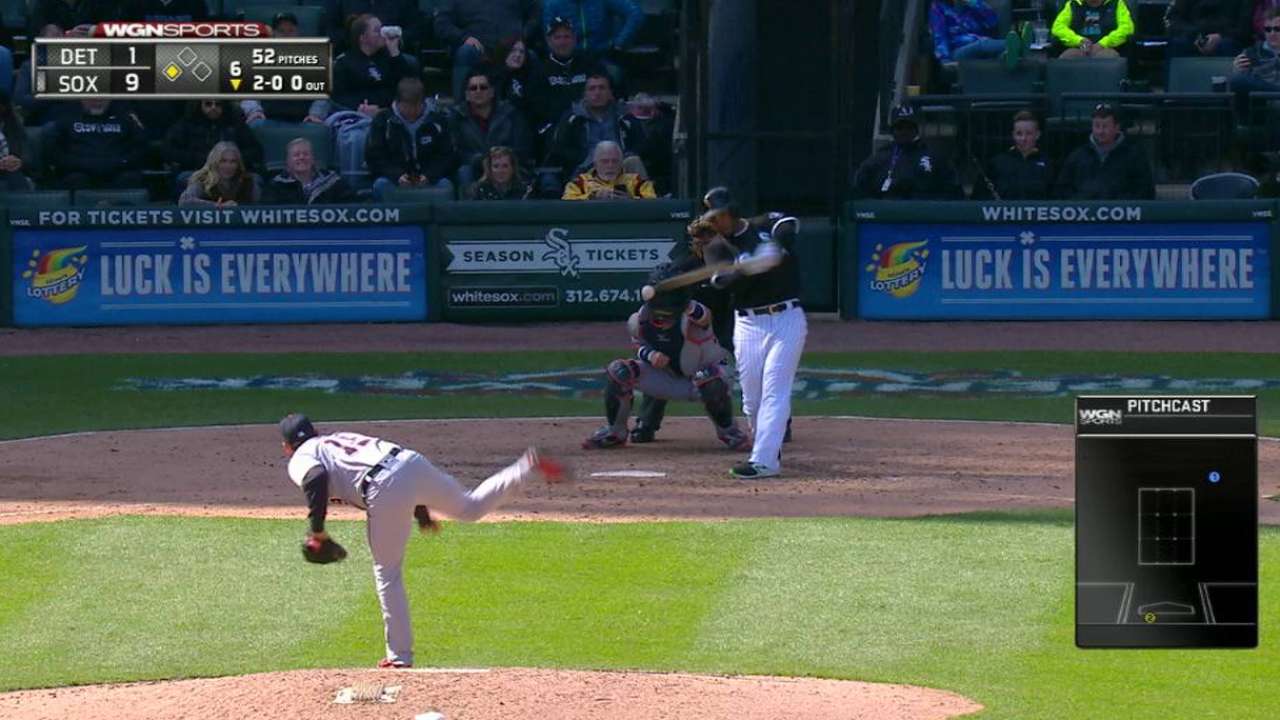 Work ethic is never an issue for Abreu, who has adjusted his routine over the years but has a consistent daily plan. He figures to fight through this two-week struggle, even if the numbers indicate a slight overall downtick.
"The hardest thing to do in this game is not to let your head drift to want to do something different, like drastically different," Steverson said. "You have to make adjustments but not let your head do something you haven't been comfortable with for a long time."
"There are some at-bats where I can put the barrel on the ball, and there are some at-bats where I can find the ball in the strike zone," Abreu said. "I am trying to figure out what's happening. I'm working on it."
Scott Merkin has covered the White Sox for MLB.com since 2003. Read his blog, Merk's Works, follow him on Twitter @scottmerkin, on Facebook and listen to his podcast. This story was not subject to the approval of Major League Baseball or its clubs.