Lopez shakes off leadoff blast, sticks to plan
White Sox prospect retires seven straight to end outing vs. Royals
GLENDALE, Ariz. -- For Reynaldo Lopez, the finish was much more satisfying than the start.
The 23-year-old White Sox right-hander was one of the prized young arms, along with Lucas Giolito and Dane Dunning, who came back from the Nationals in the December trade that sent outfielder Adam Eaton to Washington. Lopez ranks No. 46 on MLBPipeline.com's list of the Top 100 prospects in baseball and No. 4 in the stocked Chicago system.
As it turned out, he had a down-and-up day in his start Wednesday against the Royals during the White Sox 7-3 win at Camelback Ranch. It started off poorly, when the first hitter he faced, Royals infielder Raul Mondesi, homered to right-center field. It ended very well, with seven consecutive outs that gave Lopez a respectable line of 4 2/3 innings, three hits, two runs and three strikeouts along with two walks.
For a prospect expected to begin the season in Triple-A but factor largely in the team's future, it was an encouraging development as the Cactus League season rolls along.
"I kept my plan," Lopez said through an interpreter. "You can't change your plan just because the first batter hit a homer. You have to keep your plan, and I did it.
"I worked hard, and I finished strong. That's important. I gave the team a chance to be in the game."
Anderson's potential pop
Tim Anderson isn't a home run hitter … yet. The shortstop hit only nine long balls in 410 at-bats last year, but given that it was his first year in the Major Leagues and that he's 23 years old, there could be a lot more where that came from as he evolves as a hitter and big league player.
"It's there," said Anderson, who slashed .283/.306/.432 and stole 10 bases last year. "The power is there. I feel like it's coming. I just have to see what happens. Last year, I didn't try to go out and hit nine. Things happen.
"If I just keep barreling up balls, eventually they'll fly out. It just tends to happen when you get to certain ballparks."
Anderson had a few prodigious blasts that left onlookers intrigued by what he might be able to do as he matures as a hitter. One, in July at Safeco Field, reached the upper deck in left field, which isn't a common occurrence. Anderson, a right-handed hitter, said homers are the last thing he's thinking of when he steps into the batter's box.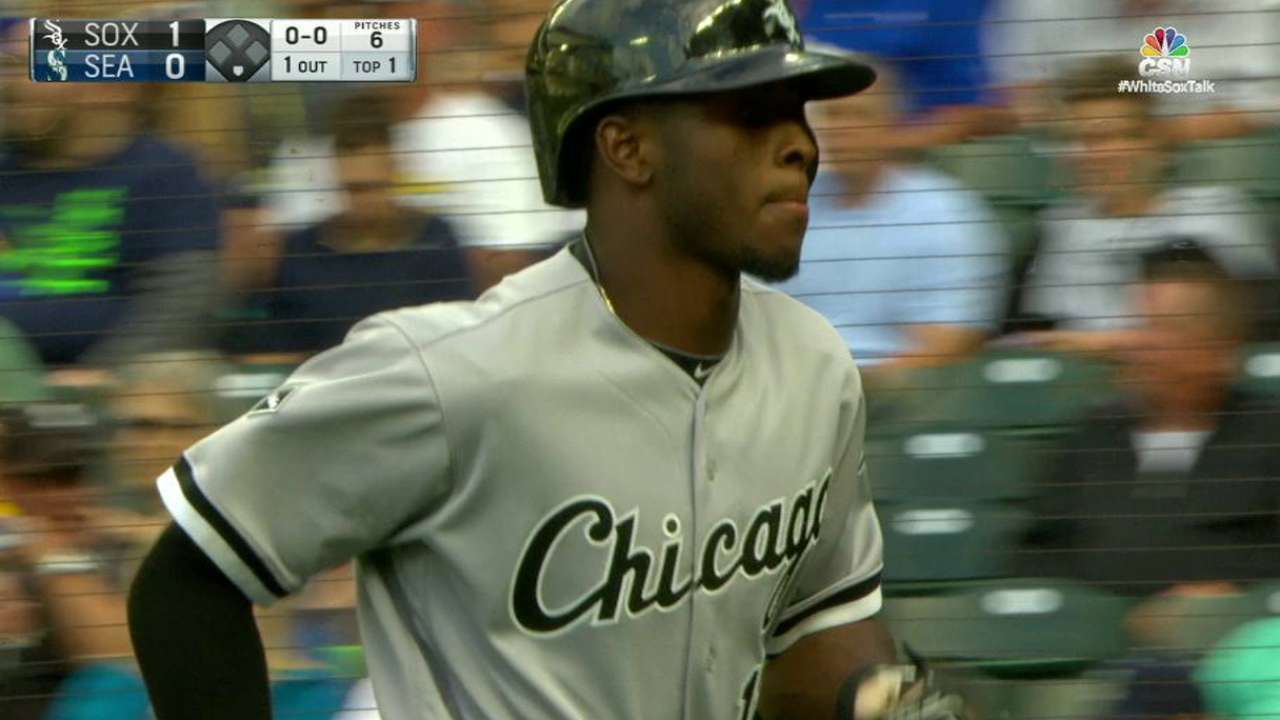 White Sox manager Rick Renteria said the organization has no specific expectations when it comes to Anderson's eventual home run proficiency. They just want to see growth.
"We're just going to allow him to continue to become a good hitter, which is what he is," Renteria said. "When he puts the bat on the ball he squares it up pretty well. It ends up finding holes.
"He continues to learn how to hit."
Doug Miller is a reporter for MLB.com. Follow him on Twitter @DougMillerMLB. This story was not subject to the approval of Major League Baseball or its clubs.